Nightlife in Nusa Dua: Beach Clubs, Bars and Late Night Spots
Nusa Dua is best known for its family resorts, manicured gardens and white sand beaches, whilst the usual party-goers and nocturnal types are usually found in Bali's Kuta, Legian and Seminyak districts. Still, this doesn't mean that there isn't nightlife in Nusa Dua . With the demand from visitors and residents to have something exciting in the area, some venues have answered finally answered their calls. 
5 Spots to Enjoy Nightlife in Nusa Dua
---
Manarai Beach House Bali
This new lifestyle destination opens up onto the glistening Nusa Dua beach known for its white sand and clear waters, absolutely pristine beach front. Blending both traditional Balinese craftsmanship and a contemporary modern style, Manarai Beach House – opened by one of Indonesia's biggest lifestyle, food and beverage and events groups, ISMAYA –  presents a seamless space from restaurants, outdoor lounge, pools and eventually out to the beach. The beach house has two swimming pools with many sun beds and lounges for those soaking under the sun. It is set to be the best destination for nightlife in Nusa Dua, on top of being a great daytime hang out.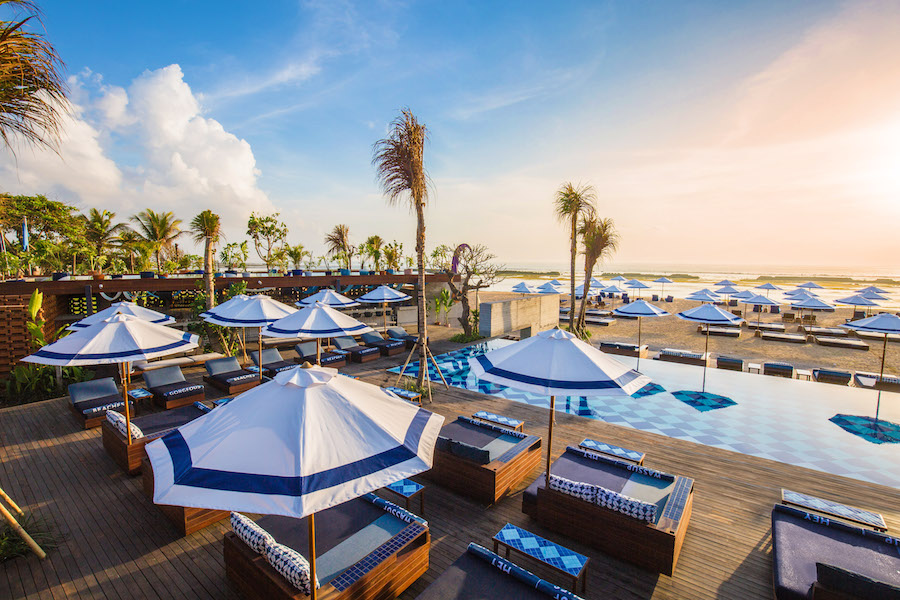 ISMAYA is best known for three things: food, drinks and entertainment. These three things are presented at their best at Manarai Beach House, the groups first beachfront establishment. Manarai has an exclusive selection of international and local dishes, making sure that there's something to suit all palates. Executive Chef Stefan Poyet has crafted a menu that highlights quintessential comfort food, with plenty for more health-conscious diners. Chef Poyet's 15-year culinary journey has included the highly acclaimed Michelin-starred restaurants Senderens and L'Abeille at Shangri-La Hotel, Paris. With his typical French savoir-fare and a deep passion for Indonesian cuisine, Poyet's unique creations beautifully fuse east with west.
Open from 9am until 1am, Manarai is both an all-day and all-night destination. Where you can imbibe in signature tropical cocktails under the sun. They have already hosted two huge parties, with Elrow travelling festival and Jonas Blue making big appearances in their first few months.
Manarai Beach House
Lot N5 Nusa Dua Tourism Complex 80363
Open: 9 AM-1 AM
Facebook: facebook.com/ManaraiBeachHouse
Instagram: @manaraibali
---
Ayodya Beach Club and Grill
Found situated on Mengiat Beach, part of the Ayodya Resort Bali, Ayodya Beach Club and Grill enjoys a stretch of private beachfront for guests to enjoy during the day and night.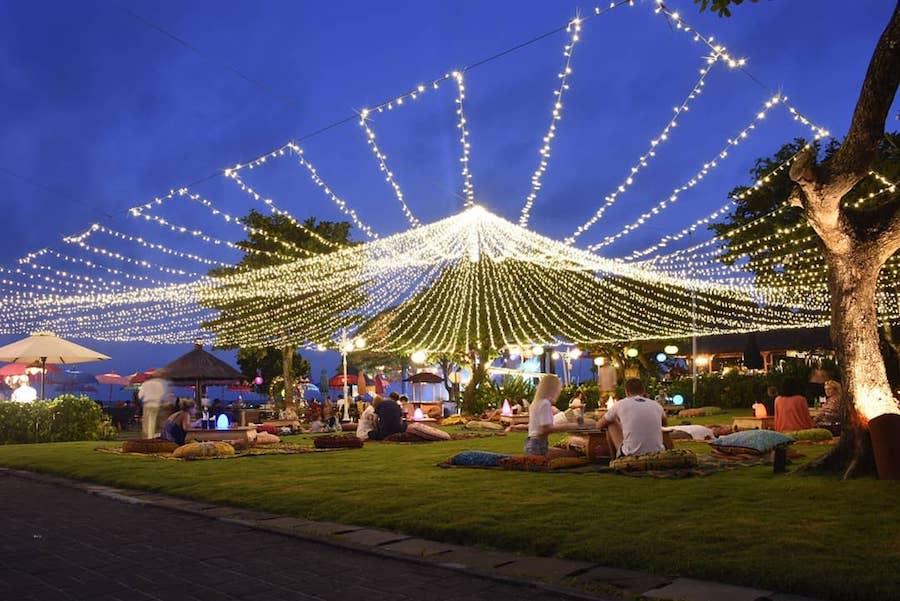 When the sun is out, it's time for beanbags under the sun enjoying the delicious offerings of their barbecue menu, wood-fired pizzas and delightful beach fare. Contrary to popular belief, despite being part of a resort, Ayodya Beach Club and Grill has made a strong effort to be affordable to all guests, to quash suspicions that they might be charging "resort prices". Beers, cocktails, house wines and food are all very reasonably priced – and with the added value of the private beachfront and amazing surroundings, it's a bargain!
So, that's the day life and we're talking about nightlife in Nusa Dua. Well, Ayodya Beach Club stays open until the sun goes down, right up to 11pm. On the weekends they have an amazing array of live bands, DJ's, jazz and more to pick up that weekend feeling right into the night. Fairy lights light up the trees and skies, and lounging picnic areas are set up on the grass for full comfort. Seminyak? No need, Nusa Dua has it going on.
Ayodya Resort Bali
Jalan Pantai Mengiat, Nusa Badung, Bali, Indonesia
(0361) 771102
www.facebook.com/ayodyabeachclub
---
King Cole Bar
If you're the type to enjoy elegant drinks, fine wines and a more sophisticated evening destination, the King Cole Bar at St Regis Bali Resort may just be the ticket.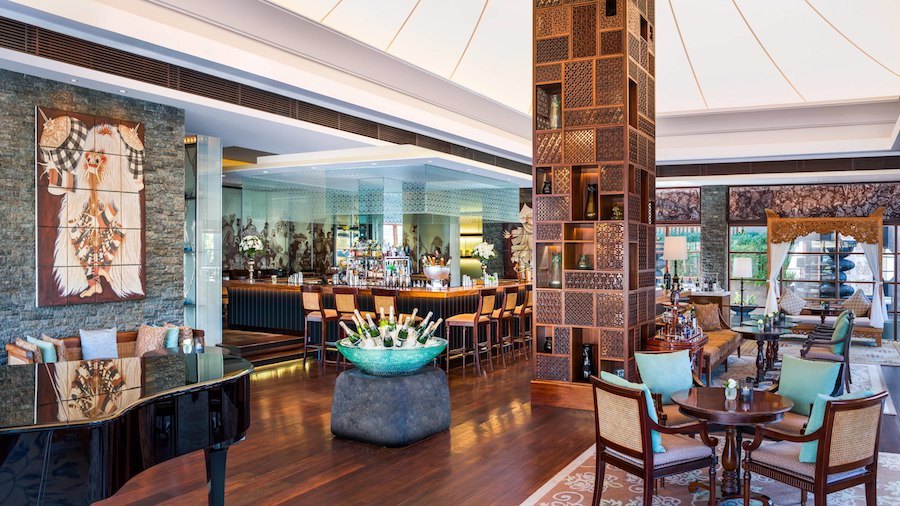 Originating from the famous King Cole Bar at the St.Regis New York, this bar takes classic style to a new level. Hand crafted artefacts and works of art make this Nusa Dua nightlife spot distinctly Bali. With plush sofas and arm chairs to sink into, extending to an outdoor porch that enjoys views over the luxury resort the scene is set for a night to dress well for. Dive into a martini and island-inspired cocktails, or perhaps their selection of fine champagnes.
Open until midnight, enjoy their live jazz sessions every evening, taking place at their central grand piano .
St.Regis Bali Resort
Kawasan Pariwisata, Nusa Dua, Lot S6, PO Box 44, Bali 80363, Indonesia
+62 (0) 361-300 6796
www.stregisbali.com
---
Bali Collection
Most of the nightlife in Nusa Dua, as mentioned above, is found in the ITDC Resort Complex, so we certainly have to mention one of the area's most happening entertainment centres, Bali Collection.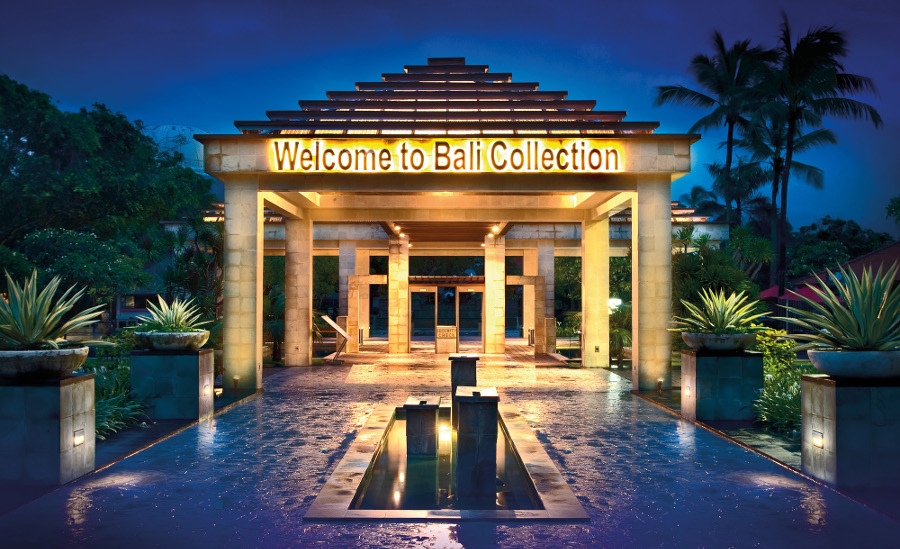 Bali Collection is one of Bali's premier shopping centres. Designed to be an open courtyard filled with garden-lined avenues of shops and restaurants, there's definitely something here for everyone. If you're looking to spend the night shopping and carousing, or want an evening enjoying a late night bite and coffee, you'll find this in Bali Collection. Of course a few bars and restaurants opening until 10pm are available here – whilst not the pinnacle of nightlife in Nusa Dua, it's a great spot to drink and perhaps start an evening before going somewhere for a bigger party! Come for food, drinks and some window shopping in a modern, Balinese-styled destination.Two spots to check out for later night drinks are Kodang Restaurant and Bar as well as Mooncheer Cafe and Restaurant. 
Bali Collection
Komplek ITDC Nusa Dua, Benoa, Kuta Selatan, Benoa, Kuta Sel., Kabupaten Badung, Bali 80363
(0361) 771662
www.bali-collection.com
---
Nyomans Beer Garden
Now this is a real local hangout; found just outside the Nusa Dua Resort Complex (ITDC), this pub meets restaurant is great for casual beers, drinks and a generous portion of international comfort foods. You'll find many residents and local hoteliers enjoying the laid-back vibe of Nyoman's, with its open pub-styled decor with nicknacks and old school bar look making for a fun atmosphere. Best thing about Nyoman's is that it's open until 1am and has huge range of drinks promotions for you to enjoy. Since it caters for the non-tourist market, Nyoman's is certainly an affordable place to drink and dine.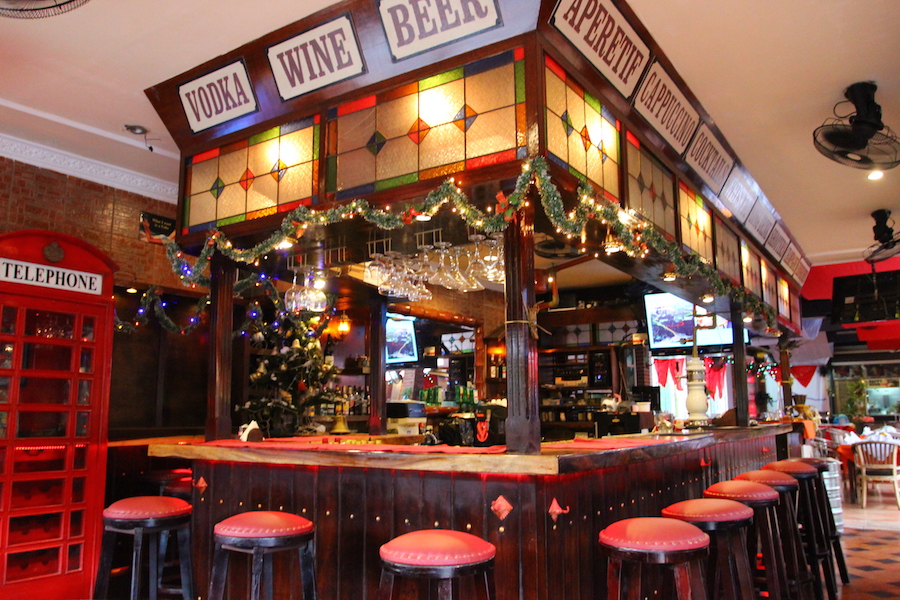 Nyomans Beer Garden
Jl. Nusa Dua, Benoa, Kuta Sel., Kabupaten Badung, Bali 80361
(0361) 775746
www.sendok-bali.com
Tagged :