Whilst the vegetarian restaurants are on the rise in Bali — along with gluten-free and vegan — this doesn't mean you won't find a tasty cut of meat on the island. On the contrary, here we present our choices if you're looking for the best steaks in Bali .
If you're reading this, then you're definitely a carnivore after a good old fashioned steak. Well, whether you're after a succulent wagyu or a beastly tomahawk to share, these steakhouses in Bali will have you fixed up with whatever cut you're after, cooked in their own unique style.
---
FIRE Restaurant (Seminyak)
FIRE, the standout grill restaurant at W Bali – Seminyak, where the island's most stylish crowds come to dine. Great to impress a date, or simply enjoy some of Bali's best steaks, FIRE's eye-catching chandelier at the restaurant's centre is a metaphor for what your meal will be: explosive!
FIRE invites you to indulge in playful takes on bistro classics including roasts, tartars, salads and raw bar classics. Wait, is that it?
Of course not. For the main attraction, experience the tableside meat board showcasing a variety of 12 signature cuts such as dry-aged Tomahawk, Australian kiwami wagyu with a marble score of 9+, grain-fed Black Angus prime beef, Argentinian cube roll and more.
Their signature steak dish is the Sendai Striploin A5 (Japan) – Sasanishiki rice stalks and barley fed A5 striploin. If this isn't one of the best steaks in Bali , we'll be very surprised.
FIRE at W Bali – Seminyak
Jalan Petitenget, Seminyak
+62 361 3000106
www.firerestaurantbali.com
---
The Butchers Club Steakhouse Bali (Seminyak)
As their name suggests, The Butchers Club Steakhouse Bali is a place for meat lovers. Their known first and foremost for their finger-licking gourmet burgers, made with dry-aged meat. However, with their skills with dry-aged meat they offer some of the best steaks in Bali .

The heart of the restaurant is its steakhouse' custom-built charcoal grill made out of a wheel crank system that raises and lowers in multiple sections to regulate temperature and charring during the cooking process – the secret to a perfectly seared steak!
As for their burgers, expect prime cut, juicy Australian beef resting on homemade buns that are bouncy but firm enough to keep the tower in place. All-time crowd favourites are The Butchers Club Burger, The Wu-Tang and The Double Happiness.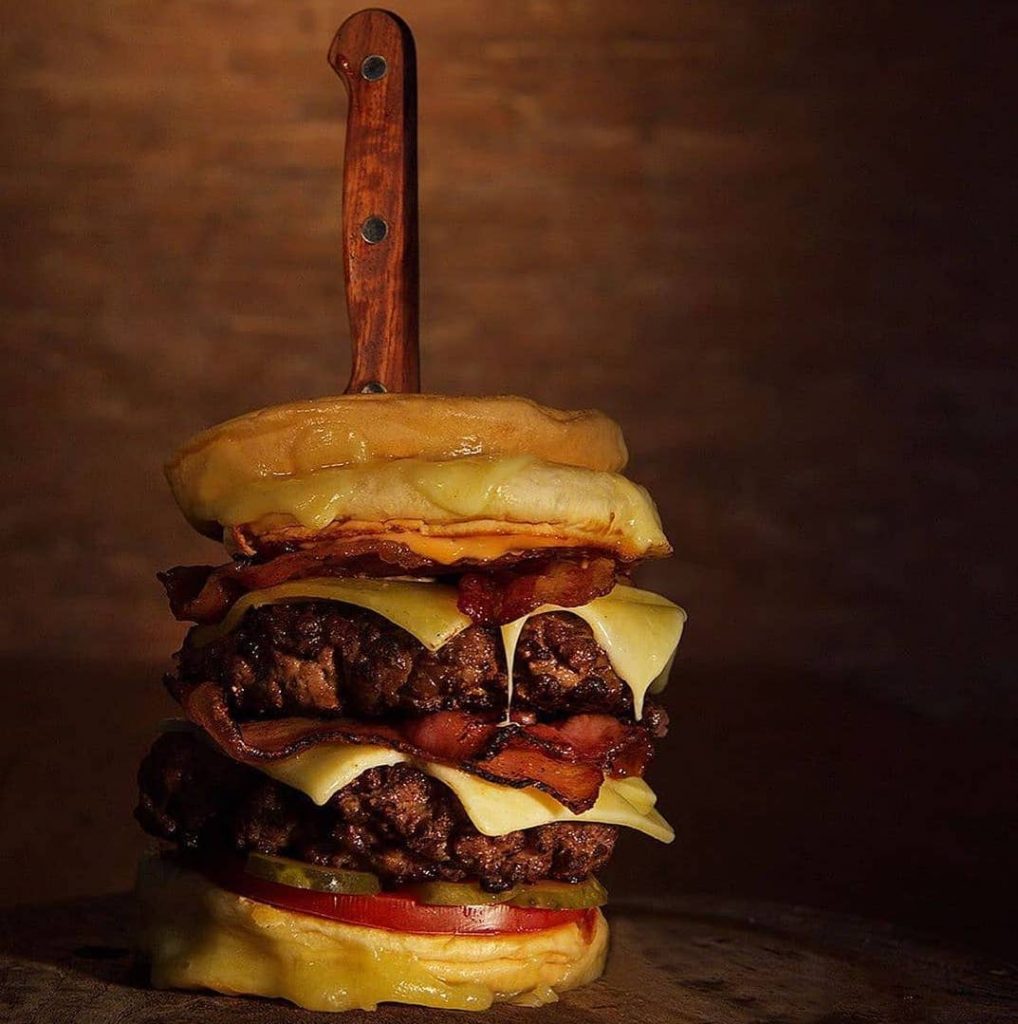 The Butchers Club Steakhouse Bali offers a big and bold range of choices including shareable starters, tasty pastas and even some vegetarian dishes – nicknamed "What Food Eats". So this once burger joint has upgraded to serve not only burgers and the best steaks in Bali , but a range of delights for the whole family. Everything here is made from scratch, down to their sauces, using only the highest quality ingredients from Bali and Australia.

The Butchers Club and Steakhouse Bali
Jalan Petitenget Gang Cendrawasih No. 1, Kerobokan
+62 81340271458
www.thebutchersclubbali.com
---
Salazon Restaurant Bali (Seminyak)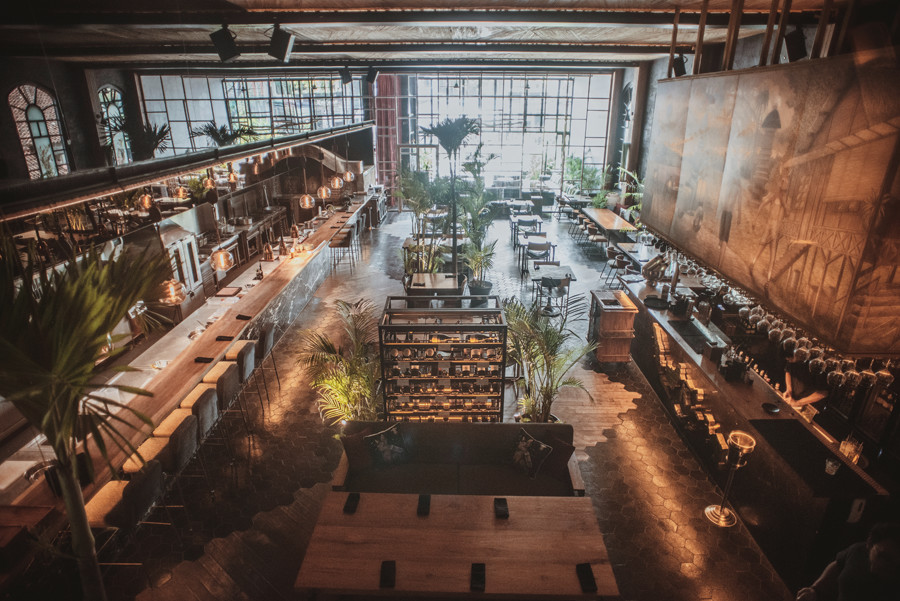 Right in the heart of the Seminyak Eat Street on Jalan Kayu Aya, Salazon Restaurant Bali welcomes you into their chic-yet-laidback venue, where Bali's tropical atmosphere seeps through into this modern steakhouse experience.
Whilst offering a wide range of dishes, it is of course their mastery of meat and all things protein where they truly excel. The magic happens in glass-encased dry-ageing showroom, where the chefs slice and dice different cuts of meat for you to see. This is the home of their many dry-aged steaks, from 21 Day-Aged Kilcoy Ribeye (250g) to their behemoth 45 Day-Aged stockyard Tomahawk (1.2kg). These juicy delicacies are cooked up on the wood fire grill, resulting in some of the best steaks in Bali.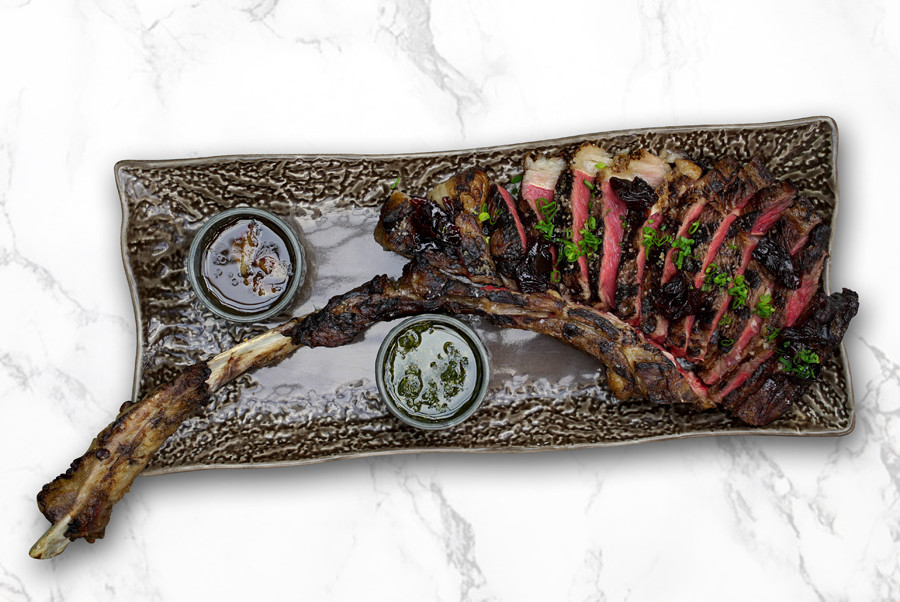 But Salazon doesn't only have mastery of the big chunks of meat, when it comes to the fine and delicate, their knives are precise. They serve house cured meats too, which make up their charcuterie options. Think copa ham, pork cheek ham, lamb prosciutto, bresaola, duck ham, pork sausage and more. All done in-house and sliced to slim perfection.
Onto the other bites and delights. Away from the wood fire grill, the menu takes a very international approach, presenting dishes generous with rich flavour and creativity. The Baked Burata Cheese Tart is a favourite from the Tapas Menu, whilst Asian tastes come in hot with the likes of Masaman Lamb Shank Caserole or the Peking Roast Duck. The pizzas are special, wood fired and drizzled with their many house-prepared meats.
Desserts here do not disappoint. The signature being the 24-hour Cooked Lemon – where an entire lemon (including the peel) is cooked, prepared and presented to eat as whole, filled with lemon sorbet, lemon curd and whipped cream. Together with a fantastic wine list and tasteful cocktails, dining in Salazon is a meal to remember. Now offering a special Brunch Menu too.
Salazon Restaurant Bali
Jl Kayu Aya 33, Seminyak
+62 817 17 11 17 33
www.salazonbali.com
---
Boy N Cow Meat Boutique (Seminyak)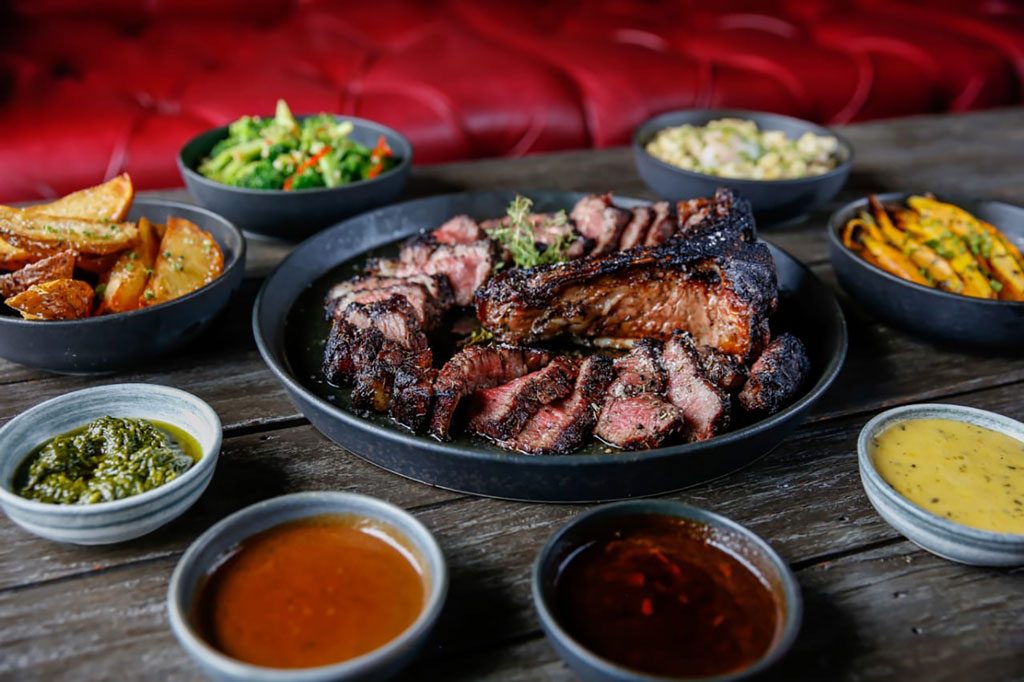 Standing proudly at the start of Seminyak's eat street, Boy N Cow is a must for anyone really craving meat and a perfectly cooked steak in Bali . As you step into the restaurant, you will be greeted by their meat fridge with slabs of various dry-aged cuts set up neatly for you to admire; and the inviting aroma of premium meat on grill.
The fridge homes the strip loin, rib eye, tenderloin, porterhouse, bone-in ribeye, and they have a special place for their Wagyu at the end of the list just to show you how serious they are about their meat.
Boy N Cow's grain and grass-fed beef are sourced from sustainable farms in Australia and the United States and are aged for 28 days on site. The quality of your steak is care-fully monitored throughout the intimate cooking sequence.
Additionally – this isn't simply a Bali steak restaurant – they offer an assortment of chicken, tuna, lamb and pork, as well as a smorgasbord of sides, starters, and sharing plates ranging from their popular mac n' cheese to more crazy variations of beef.
Boy N Cow Meat Boutique
Jalan Raya Kerobokan No. 138, Seminyak
+62 361 934 8468
www.boyncow.com
---
DAVA Steak & Seafood Restaurant (Jimbaran)
DAVA Steak & Seafood, a Wine Spectator Award winning restaurant, brings the modern steakhouse and seafood grill dining experience to AYANA Resort & Spa, BALI, with a chic atmosphere set against a dramatic backdrop of sunset and ocean views.
Only open for dinner, this classic dining destination brings you back to a bygone era where protein was king, be it the spoils of the sea or land. First, step into their Martini Bar and grab yourself a gastronomic-inspired cocktail. We did say this place was a classic.
Then, follow up with DAVA's innovative menu presenting culinary works of art such as premium beef selections from 3 different regions presenting the best steaks in Bali, as well as Canadian Lobster, offering you a top of the range 'surf and turf' meal.
DAVA's wine cellar features an Enomatic® wine dispenser, inviting you to sample several different wines by the glass in one evening, creating the ultimate wine tasting experience.
DAVA Steak & Seafood at AYANA Resort & Spa BALI
Karang Mas Estate, Jalan Karang Mas Sejahtera , Jimbaran
https://www.ayana.com

---
Henry's Grill & Bar
At Henry's Grill & Bar, the menu is fuelled by wood, showcasing the secrets that wood-fired cooking holds in making a truly mouthwatering meat experience. This Bali steakhouse burns a collection of different woods daily to create coals that will then be used to enhance the natural characteristics of the ingredients, producing perfectly aged smoked and cured meats.
Choose from 'the Belly of the Beast' menu and bite into 30-day aged grilled meats cooked over an exotic blend of coffee, ram-butan, and apple wood. If you're a bit of a beast yourself, their 500g T-Bone Italian style bistecca or the 1kg Tomahawk on the bone are some of the best Henry's can offer – some of largest offerings of steak in Bali ! To add a kick to the improved menu, the team is serving an eclectic selection of dishes, such as Wagyu Beef and seafood favourites.
In conjunction with their first anniversary in March 2019, this Bali steakhouse launched a new and improved menu, along with their new professional steak chef Danny Chaney. His nineteen years of experience will raise the bar higher on their premium dry-aged fire-grilled steak, involving the highest quality imported beef from the US and Australia married with locally-sourced produce.
Henry's Grill & Bar
Jl. Kartika Plaza, Lingkungan Segara, Kuta
+62 361 475 4992
http://henrysbali.com
---
Avenue A (Canggu)
Located in Berawa, Canggu. Avenue A is an Americana gastropub concept with a modern nostalgic menu built on cravings. A no-frills approach to craft cocktails and beers, and rock & roll vibes. If you're looking for one of the best steaks in Canggu , here's where to eat!
Native New York chef, Billy Joe illuminates the kitchen with culinary practices rarely found in casual dining, using a bounty of fresh local ingredients to create heavenly dishes and serve the best meat on the island. Everything is made in house from the bread, fresh pasta and all the condiments from the mustard to the pickles. Don't miss his signature mouth-watering brisket, tender steaks or Spanish Duroc pork baby back ribs with Carolina Gold bbq sauce.
Avenue A
Jl. Pemelisan Agung No. 8, Berawa , Canggu
www.avenueabali.com
---
Si Jin Bali (Seminyak)
Whilst relatively new, this Asian-inspired steakhouse has already gained a reputation for serving some of the best steaks in Bali.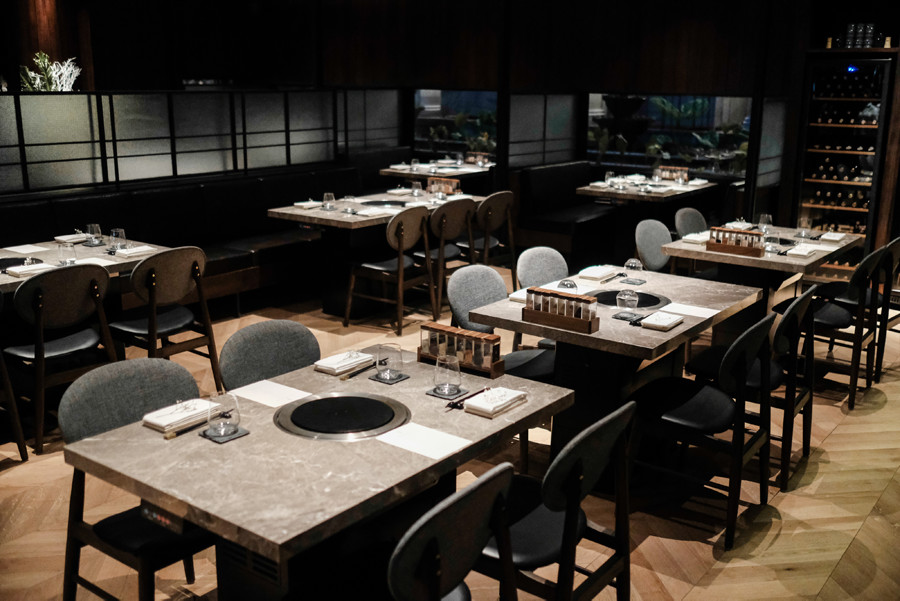 Highlighting the concept of sharing, SI JIN's selections of dry-aged meats, from 30 days to 200 days as well as premium wet-aged, are prepared in-house and freshly served on smokeless grills on every table paired with starters – all created by incorporating Korean and Japanese techniques with wholesome local ingredients sourced from across Bali.
Here you can choose from 30 Aged Picanha 9+, 45 Aged Hokkaido "Snow" Series, and 60 Aged Andong Soju Bone-In Ribeye 7+, in addition to the Wet Age Signatures such as Cha-Dol Bali 9+, Misuji 9+, and Tochigi Sirloin; all served with eight different selections of homemade salts.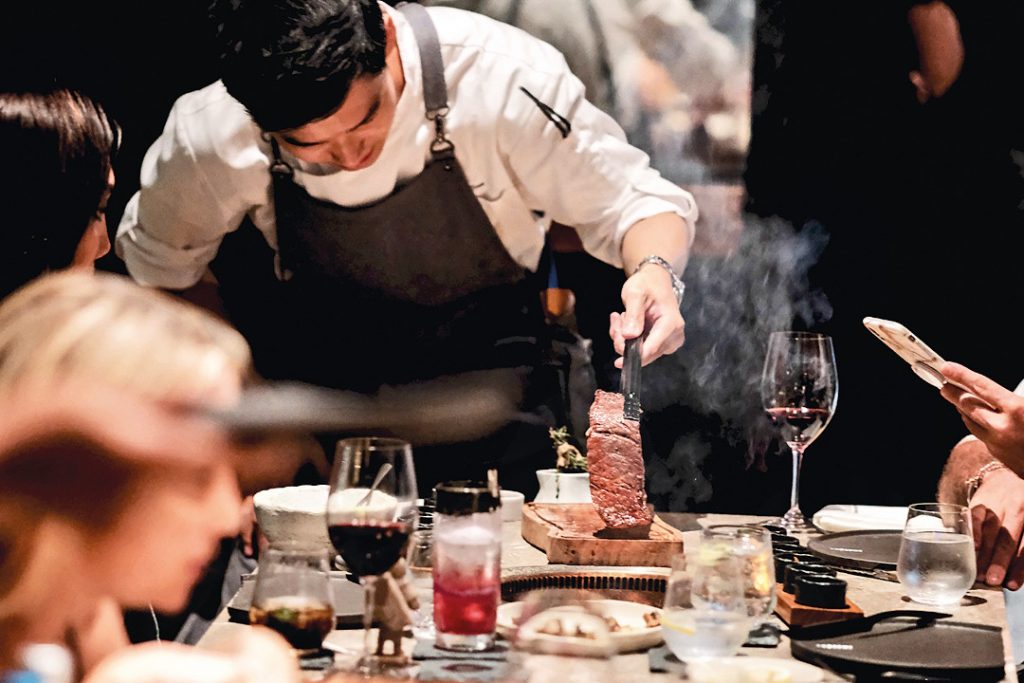 But before you sink your teeth in the juicy meats, you may want to kick-start your feast at SI JIN with Uni "Yukhoe", Wagyu Butter, Korean Namul, and sharing sides such as Pomme Puree, Dolsot Stonepot, and Mt. Fuji Spinach.
SI JIN Steakhouse
Jalan Lebak Sari no. 18, Petitenget
+62 812 3871 3964
www.sijinbali.com