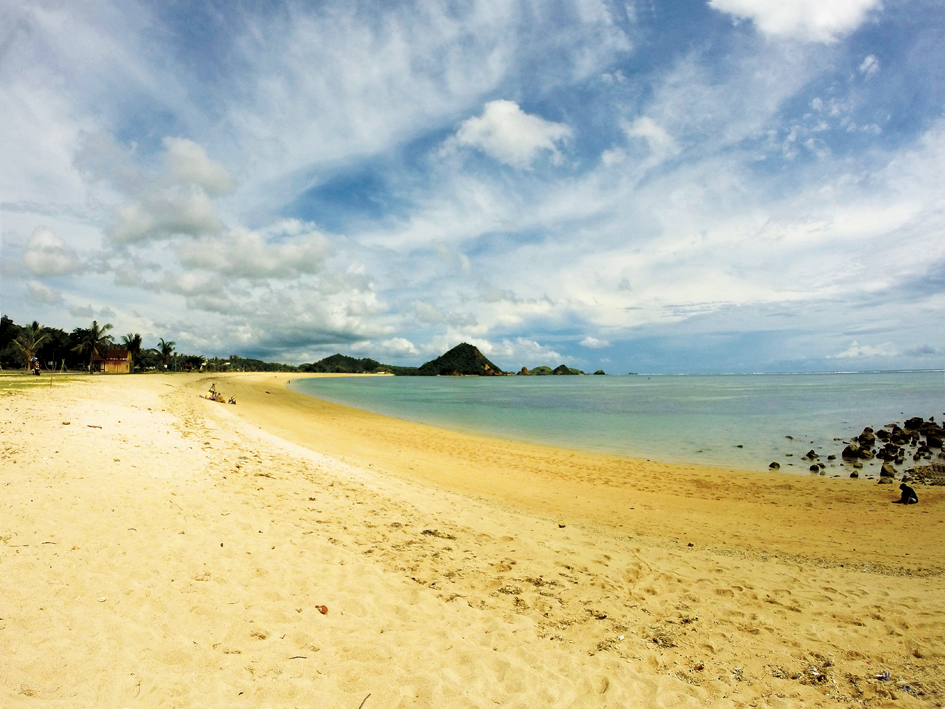 Lombok is a different world, it is a quiet island, waiting to be explored and discovered. For those looking for an island experience entirely different from Bali, venture east to the land of the Sasak people.
The flight from Bali to Lombok is incredibly short, as soon as the plane reaches its cruising height and those seat belt signs go off, no sooner are you being told to sit down and buckle up again for the descent! As you look out the plane window, what will welcome you is an expanse of green spreading out towards the towering Mount Rinjani in the North, standing at 3,726m tall.
The short geographical distance between Bali and Lombok can hardly represent the actual differences between these two islands. Lombok has a drier, more arid environment, and having crossed the invisible Wallace Line, the flora and fauna are different from Bali which makes visiting the island that much more intriguing.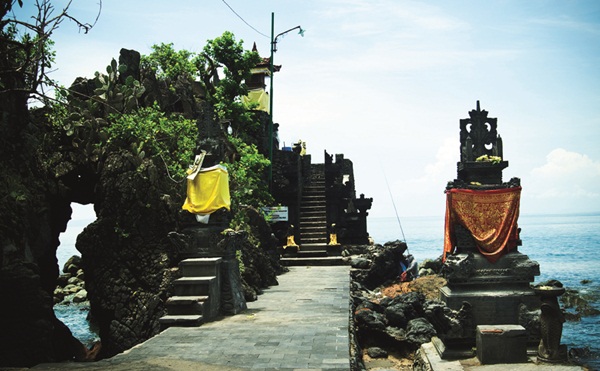 The island is home to the indigenous Sasak people. They live a traditional lifestyle, in villages that remain remnants of the past. Sade Village in south-central Lombok is a great way to witness first hand their way of life. Upon entering, a friendly guide will come to meet you, as visitors may not wander the village alone. Your guide will take you through the little alleyways that maze around the Sasak buildings, only made with natural materials, mainly cow-dung, bamboo and thatched roofing. As you weave between the houses along earthen footpaths, you realize how different a world this is, that as soon as you entered the village gates you were actually entering a land lost in time.
Sadly, it is apparent that these people are quite poor; the men work mainly as farmers, whilst the women continue their traditional weaving practices, day after day, making the vibrantly coloured 'ikat' cloth that line the village streets. Nonetheless, they choose this traditional way of life and hang strong onto many of their customs. In villages like Sade, the inhabitants are very protective of their community, thus people must marry only within the village to preserve the society they have.
Still, visiting Sade Village brings unique insight into Lombok's culture and the tourist donations help the villagers to sustain their way of life. The guides, during your little tour, will tell you some very interesting stories and customs of their people too.
Another amazing part of visiting Lombok is its beaches. When you're on any island getaway, to lie on a soft bed of white sand as the water laps against your feet and the sun shines on your face is a necessary ritual. To find this, travel south from Sade Village towards the coast of Kuta. Here you will be pleasantly surprised by the complete contrast to the Kuta of Lombok's western neighbour, as the beaches here are almost completely empty.
Tanjung Aan
The surrounding atmosphere feels different: rolling, green headlands, and black boulders dominate the coastline and rock pools pepper the bays. Tanjung Aan, a peninsula in the Kuta area, is home to many little coves that are waiting to be explored and claimed. There are some hawkers, who will no doubt be excited by the rare appearance of a tourist, but other than that, you may be the only visitor. A full beach for yourself, now you won't find that in Bali!
Once you've seen enough of the south, travel northeast towards Senggigi. This happening little locale is what Kuta, Bali, might have been like 20 years ago or so. Small, cosy restaurants and bars along the main road play live music and serve family-friendly food for all; a cool and casual 'nightlife' scene that sits inline with this quieter island getaway.
The area around Senggigi makes for a great day out too. Travel along the coast, up and down the hills that separate each sprawling bay, of which there are many to see. The views atop these hills are magnificent, but at a particular one, a peculiarly familiar structure stands high. It is a candibentar, a Hindu temple gate we always see in Bali. This gate is the entrance to BatuBolong Temple, a simple but stunning structure built upon eroded volcanic rock. Open for visitors, you can enter and see people praying – around 15% of Lombok's population are Hindu. BatuBolong is an amazing spot to enjoy the sunset too, boasting views of Bali's Mt. Agung.
If you're looking for a new twist on island life, Lombok offers just this with a unique culture to learn about, an unfamiliar environment to admire and a quieter ambience to appreciate.
WHERE TO STAY
Fave Hotel Langko
The brand new Fave Hotel Langko offers the modern comforts you will need after a long day of gallivanting around Lombok. Situated in Mataram, Lombok's capital, Fave Hotel sits between the airport in the south and the lively Senggigi area in the northeast, a convenient middle ground for any explorer.
Jl.Langko No.21-23, Mataram, Lombok
T: +62 370 6170111
E: [email protected]
Hotel Tugu Lombok
This extraordinary resort found in the northeastern region of Sire is the ultimate Lombok escape. Tugu, famous for its efforts in incorporating history and culture into its buildings, is set upon verdant grounds that stretch out onto white sand beaches.
Sigar Penjalin, village, Tanjung, Lombok
T: +62 370 6120 111
Text & Photos By Edwards Speirs