Two things that play a prominent role in life on the island are food and music. With Bali's thriving culinary scene and its constantly evolving music culture, what's better than experiencing these two things in combination! Cue in SugarSand's upcoming event, Friday the 13th Chefs Party, featuring guest Chef & DJ from the UK, Ben Spalding.
On Friday, 13 September 2019, foodies and music enthusiasts around the island are in for a surprise as Seminyak's bustling beachfront bar and restaurant, SugarSand Seminyak Bali, will host a special Friday the 13th Chefs Party that fuses food and music. SugarSand is flying in help from award-winning London Chef Ben Spalding, who will be collaborating with Executive Chef Nic Philip in the kitchen. Chef Ben will not only bring the heat to the kitchen but to the dance floor as well, making his Bali debut behind the decks spinning deep-boogie house tunes post-dinner.
Modelled after the Japanese izakaya concept, Chef Nic and Ben will present a sumptuous barbecue and grill menu of 12 dishes over a 4-course barbecue feast, served shared style, complete with cocktail pairing. The cocktail pairings will be masterminded by SugarSand's resident mixologist, Juni Bent, who will be working in tandem with talent from Bali's celebrated speakeasy joint, 40 Thieves, to conjure up innovative cocktails showcasing the locally-sourced, homemade ingredients.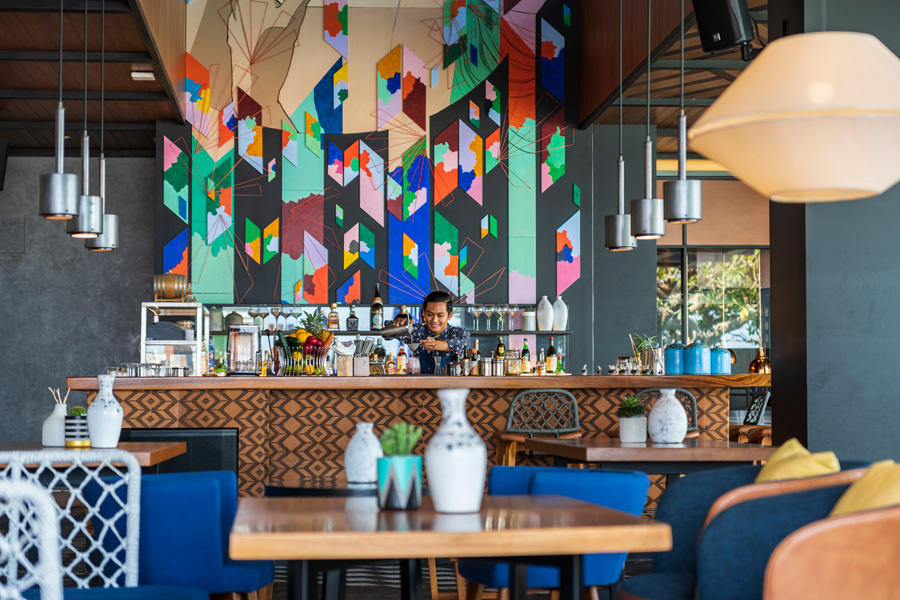 A celebrated chef from London, Ben Spalding manages PuzzleProjects, a fresh approach on hospitality consultancy which offers highly professional dining events and bespoke catering services to accommodate anywhere between 1 to 10,000 people over a variety of budgets, locations and requirements, from weddings, corporate or promotional events, special occasions to beach parties and music festivals.
With 15 years of experience and well-merited expertise in his bag, Chef Ben mastered his skills at some of the world's most prominent restaurants including the Michelin-starred Restaurant Gordon Ramsay. He's been rewarded with several accolades including the Zagat 30 under 30 award and the Times 100 Most Influential People.
Another important aspect in Chef Ben's life is music, another passion of his that plays an integral role in his life. He's able to combine his two greatest love – cooking and music – by hosting vibrant and energetic dinners and parties. His endeavours have granted him projects from new and existing clients spanning across America, Europe and Asia, from consultancy to exhibition-sized festivals and restaurant concepts.
Australian Chef Nic Philip has an extensive list of experiences in the world of luxury resorts in the Asia-Pacific region and at celebrated European dining destinations including London's Michelin star Cove Club and Copenhagen's famed Restaurant Taller. Chef Nic was also included in the Top Young Chefs of 2017 list in Singapore's The Peak Magazine, and the Bali Bible's Top 10 Chefs of Bali. At Salon Bali, Chef Nic brings a modern and innovative twist to Balinese cuisine, crafted using authentic Indonesian techniques and ingredients.
Head over to SugarSand on Friday, 13 September 2019, for some food (and music) for the soul as Chef Nic and Chef Ben unites in the kitchen to present an enticing menu with cocktail pairings by SugarSand and 40 Thieves Bali, followed by a live set by Ben Spalding himself. Friday the 13th Chefs Party starts from IDR 800,000nett/person for food only and IDR 1,200,000nett/person with cocktail pairing.
For more information and reservations please call +62 361 209 9999 or email [email protected]
SugarSand Seminyak Bali
Jl. Double Six, Seminyak
+62 361 209 9999
[email protected]
sugarsandbali.com
Tags: