ODYSSEY Art & Music Festival, organised by the ARTOTEL Group, is heading to Bali for a 4-day showcase featuring art, music, talks, exhibitions, installations, artistic performances and of course music performances.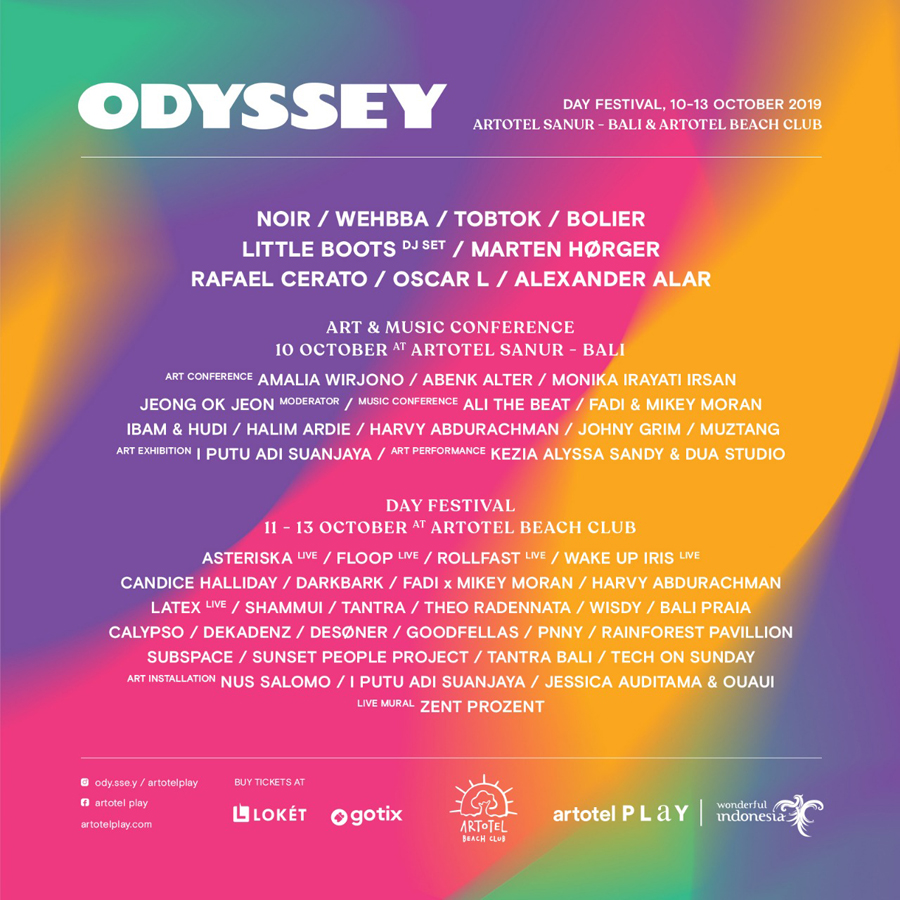 Brought to you by ARTOTEL Play, ARTOTEL Group's Creative Events Management, ODYSSEY was created as a platform to celebrate and showcase emerging local artists and musicians. The first event was launched in April 2019 at ARTOTEL Thamrin – Jakarta, followed by a second event on June 2019 at de Braga by ARTOTEL, then in August 2019 at ARTOTEL Yogyakarta, and is set to conclude with its Bali edition from 10-13 October 2019 at both ARTOTEL Sanur – Bali and ARTOTEL Beach Club (ABC).
The aim of the Odyssey Art & Music Festival is to promote and elevate contemporary Indonesian art and music to an international level.
The Bali event will be split into two programmes:
On 10 October 2019, ARTOTEL Sanur – Bali will host the Art & Music Conference.
This will involve several speakers. The Art Talk panel will include Amalia Wirjono, Founder of Art Dept. ID; Monika Irayati Irsan, Founder of the Erudio School of Art; and young Indonesian artist, Abenk Alter, along with Jeong Ok Jeon, curator and art consultant, as the moderator.
The Music Talk panel will have speakers such as Ali the Beat, Fadi & Mikey Moran (Bali Praia), Ibam Adam & Hudi Ardianto (Sonar Inc.), Halim Ardie (Rainforest Pavilion), Harvy Abdurachman (Double Deer), Johny Grim (Tantra Bali / Socasora), and Muztang (Java Bass / Goodfellas).
Enlivening the event will be an art exhibition by I Putu Adi Suanjaya that will be showcase at ARTOTEL Sanur – Bali's ARTSPACE, and art performance by Kezia Alyssa Sandy & Dua Studio. The Art & Music Conference is open to the public and is free of charge.
From 11-13 October, the fun begins with the Day Festival, taking place at ARTOTEL Beach Club (ABC).
Party on the beachfront of Sanur Beach for ODYSSEY Festival's Day event, inviting both international and local artists to the stage.
International headliners include Noir, Wehbba, Tobtok, Bolier, Little Boots (DJ Set), Marten Hørger, Rafael Cerato, Oscar L and Alexander Alar.
Local artists, renowned in Indonesia, Jakarta and Bali, include: Wake Up Iris, Asteriska, Fadi & Mikey Moran, Tantra, as well as several Jakarta-Bali based collectives including Calypso, Dekadenz, PNNY, Sunset People Project and Tech on Sunday, will represent the locals.
Catch the art installations by Indonesian contemporary artists, Nus Solomon, Jessica Auditama & OUAUI, at the Day Festival, along with art performances by Zent Prozent.
The ODYSSEY music festival will occupy two stages, the first located on the ABC playground area with a Tropical Garden Theme, while the second stage is set on the ABC beach area with a Dream Beach theme.
The 4-day ODYSSEY starts from 12pm – 11pm daily with ticket prices starting at IDR 150,000++/day to IDR 300,000++/day for the second and third days (11-12 October). Visitors can enjoy free entry for the final day of the event (13 October). To purchase tickets, click here!
For more information please visit artotelplay.com. Keep up with updates by following their official Instagram @ody.sse.y and Facebook ODYSSEY Day Festival
ARTOTEL Sanur – Bali
Jl. Kusuma Sari No. 1, Sanur
+62 361 472 1000
[email protected]
https://artotelgroup.com/hotels/artotel/sanur-bali/
ARTOTEL Beach Club Sanur – Bali
Jl. Danau Tamblingan no. 35, Sanur
+62 361 4491 888
[email protected]
https://artotelgroup.com/restaurants-bars/artotel-beach-club/
Tags: