Gianyar is characterised by its terraced rice fields, dense forests, and dramatic, rolling landscapes. Nature really stands out in this region, and so do the region's villages of naturally talented artists and craftsmen.
Coming through Jalan Tohpati to Gianyar, you'll drive through Batubulan, the region's village that is home to the island stone carvers. This craftsmen village greets any visitor passing by with row upon row of statues lining the two sides of the street. Behind these statues are the craftsmen homes, workshops, and galleries – all practicing the culture that has been passed down through generations.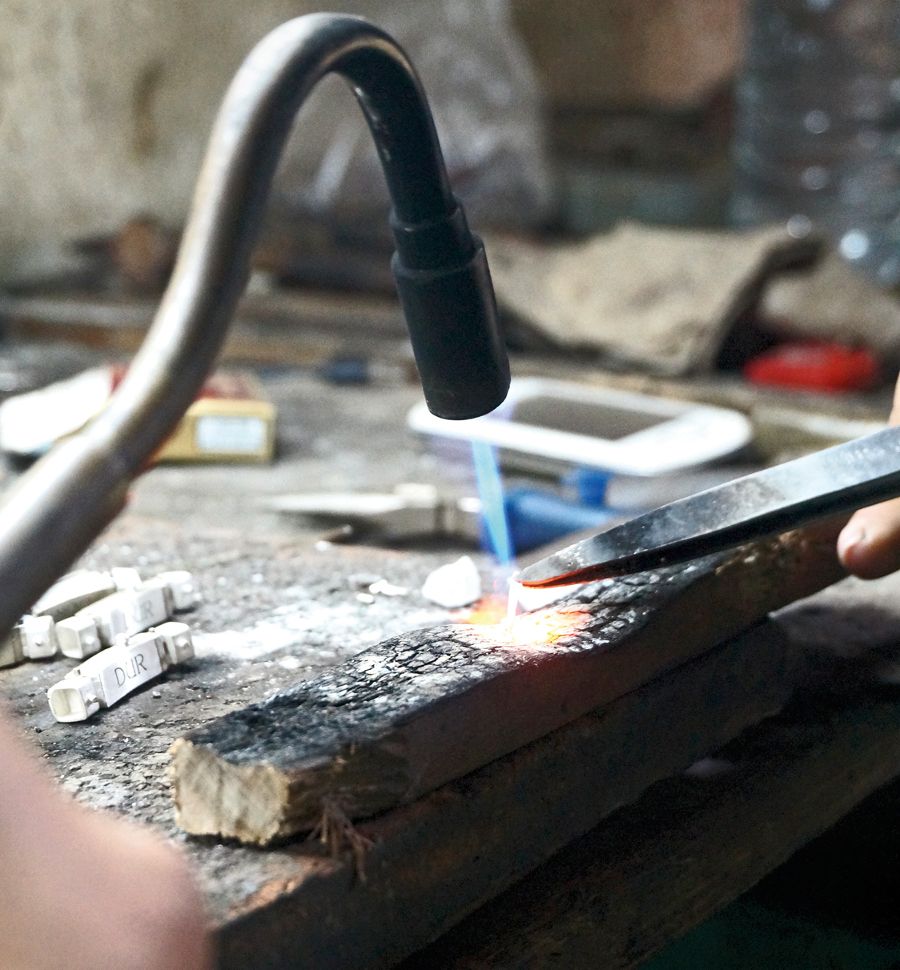 But stone carving is not the only feature Batubulan is mostly known for, for the traditional Balinese dances also thrive here. In this part of Gianyar, an evening of cultural appreciation should leave a memorable experience on your Bali travel diary. Nightly Kecak and Fire Dance performance takes place at in the village's Sahadewa (the Kecak starts at 6.30pm to 7.30pm). Here you'll get to learn how a traditional dance is more than just an art form for the people of Bali. It's an expression of gratitude, a way to thank the gods for all their blessings and kindness.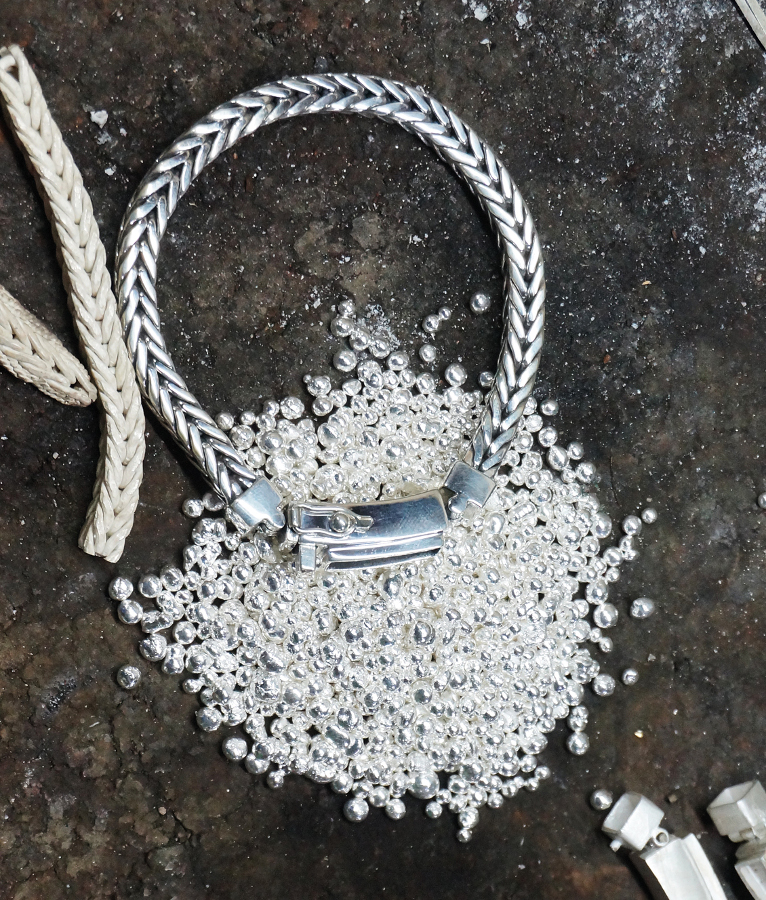 A different form of art is conserved in the neighbouring village of Celuk, where local silversmiths are busy creating intricate pieces in their home studios. Shanti Silver, for example. Owned by a family of local Celuk silversmiths, silver jewellery making takes place in the studio inside the family compound. They've been crafting silver jewellery since 1980, and a lot of them are sold overseas to quite a number of international jewellery brands. The uniqueness of Celuk silver jewelries, such as those made by Shanti, is on the detailing that often apply local motifs and patterns, and that the pieces are handmade. Most of the pieces are produced in small numbers for the reasons of quality and rarity.
Shanti Silver is just one of the home-based silver productions in Celuk, for the area is packed with households of silver making families. Passing the area you'll notice signboards placed in front of many homes; some have their own galleries and showrooms, and others only produce the pieces for other jewellery brands. If you're in the area, don't hesitate to knock on their doors and ask to observe the making process of the silver jewelries.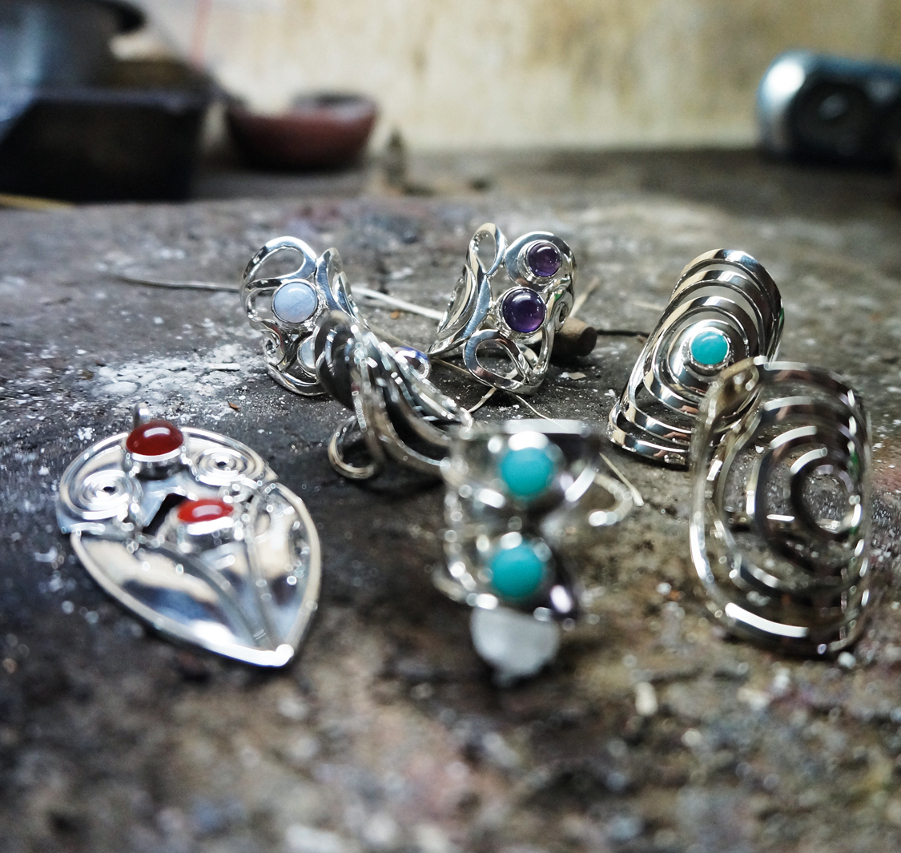 Anyway, away from the craftsmen villages, nature awaits at Tegenungan Waterfall. Nestled in a tranquil area less than 30-minute drive from Celuk, Tegenungan is considered the closest and probably the most easily accessed natural attraction of its kind. Reaching Tegenungan is a pleasant drive through paved village roads lined with coconut trees and stretches of green rice fields on both sides. Upon entering the waterfall area, you'll find a parking lot and ticket booth; this area is also filled with art and souvenir shops as well as small restaurants and stalls selling snacks and cold drinks. From here, it only takes several minutes walk down to the waterfall.
As you walk down the trail and away from the shops, you'll be greeted by the breathtaking view of the green surrounding, with the cascading water as the centrepiece. The waterfall is framed by dense foliage, and the volume of the water is splendid at almost any time of year, though normally at its strongest during the wet season.
You can go down to the vast pebbly base and enjoy a dip in the plunge pool, but this is not advised after heavy downpours, due to the risk of flash floods.
Another 30-minute drive from Tegenungan, passing the popular Sukawati Art Market, is a hidden gem that is Guwang Hidden Canyon. One of the island's great natural wonders, the canyon now entices visitors to gaze down upon its beauty. But of course, the best way to observe it is from the river that flows through its majestic walls. Steep steps allow access to the canyon. Upon arriving on the riverbank, you can see a number of springs whose water is considered holy by the villagers and is used for praying and other ceremonial purposes. A small water temple (best viewed and photographed from higher ground) is also built there to show the importance of the river to the villagers.
The river is the place where quite a number of the local villagers go to bathe. The water is calm and clear, and the atmosphere is relaxing. To reach the canyon you have to walk through the ankle- to knee- deep river and climb several big rock formations – it can be slippery at times. There are several 'Instagram worthy' spots along the way to the canyon. So if you need to update your Insta story, here at Guwang, nature provides.
Approaching the canyon, you'll immediately be blown away by the surrounding natural beauty. Here, the river can go up to 1.5 meters deep, and visitors in the know have to put their wall climbing skills to the test by going through the textured wall with all its natural hand-holds and in-cuts. There will be an area where you have to go rock hopping if you don't want to be soaked in the water. It can be quite challenging especially if you're not an outdoorsy type; but once you've reached the canyon, you'll know it's all worth it. Swimming is allowed and taking loads of photographs is a must. Some visitors even troubled themselves, climbing the slippery walls to find that perfect angle.
The best time to explore the canyon is around noon, where the sun reflects beautifully on the river and creates a more dramatic vista of the canyon. Donation is required upon entering BejiGuwang Canyon, and local guides are available (with extra donation, no fixed price) to tell you which foot goes where during the wall climbing. It is advised to bring your swimmers and dry bag, and please, please put litter in its place. While you're in the area, you may also want to visit Sukawati Art Market for some souvenirs and sightseeing.
Moving to the highlands of Gianyar, you'll find the celebrated terraced rice fields of Tegalalang. Though rice fields are common in the landscapes of Bali, where agriculture has been an integral part in the life of the Balinese people for thousands of years Tegalalang is probably the most photographed one. Visitors flock to the area, crowding the lookout points to capture that perfect kodak moment. But if you can go down, why just look down? Tegalalang's rolling hills and meandering terraces are explorable, for pathways have been carved out of the soil for easy access. Below you'll find several spots that are specially made for you to take selfies with the rice fields as the backdrop! Of course, taking your time while having a pleasant stroll around the terraces and up to the other side of the hill should be the highlight of your visit here.
A five-minute drive from Tegalalang to the south is Petulu, the smallest village in the Ubud district. The quiet atmosphere of this village offers a traditional glimpse of Bali within one of the most scenic settings on the island, where one can easily see the modesty of the villagers as they skilfully make palm-leaf trays to lay their offerings in pristine natural surroundings. And what many don't know is that the village is also home to hundreds, if not thousands, of white herons.
Surely, Petulu will leave an unforgettable afternoon for everyone visiting the area; especially when flows of the herons are flocking the village to roost there before sunset. Standing on the rim of the rice fields, or the available observation points, with your head looking up straight observing the sky provides a magical vision – the sky above turns crimson with little white dots of the herons from a distant that will gradually grow bigger as they are approaching and flying low before finally hopping onto their nests. As the sun sets, the trees of Petulu will change appearance into clumps of white as the herons nest there. However, you might need to get a safe spot or walk quickly under the trees if the herons are already roosting, for the copious droppings on the road will indicate it's wise not to hang around!
Anyway, Bali's green landscapes comes with ease in the Ubud district. Campuhan Ridge, also known as the "Hill of Romance," allows an easy walk upwards on a winding stone path amidst scenic grasslands, hilly and uneven at times, but affording gorgeous views of the river valley below. A lot of locals, especially teenage couples go to this place pre-sunset – hence the romance attribute. One thing to keep in mind: Walk leisurely, this kind of thing shouldn't be rushed. This walk is best enjoyed early in the morning or around 3-4pm. If you go at around 5pm, there will be a lot of scooters as students return from school. Scooters are not allowed on the stone-path, though, so it's a safe walk. It's not advisable to go after sunset as the path is not lit.
Of course, Gianyar is the home to the ever popular Central Ubud, a bustling, little village town that has captured the hearts of many from around the world. Restaurants and shops line the area's main roads, budget accommodations crammed its alleyways, yoga and wellness centres decorate its outskirt areas. Love it or hate it (especially for the traffic jams!), Ubud is indeed still one of Bali's signature areas, a unique destination completed with facilities that cater to visitors of every budget and need.
And though the area is vastly developing, Ubud still leaves room for nature and its local 'inhabitants' to thrive. The Ubud Monkey Forest, an extremely popular sacred area, offers fresh air provided by its towering trees. A stroll along the paved pathways through a leafy nutmeg forest allows you to watch playful monkeys in their natural habitat, swinging through canopies, lazing along pathways or feeding on bananas. Ancient Balinese Hindu temples with guardian statues covered in moss can also be found in many parts of the forest.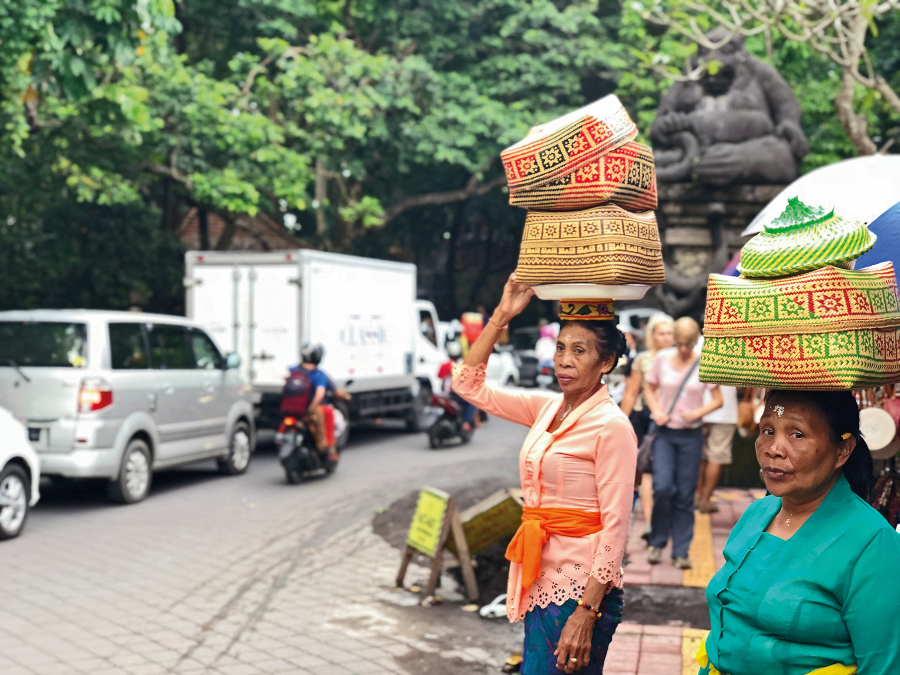 The Ubud Royal Palace is another major attraction here. It has well-preserved Balinese architecture and charming garden settings. The front section of the palace is open to the public, where visitors are allowed to have a walkthrough for viewing and photos during the day. A local guide can be occasionally met around the wantilan pavilions; the guide is able to assist with visitors' inquiries about the history and features of the palace. In addition to the architecture, the palace is also best known among lovers of Balinese arts as one of the main sites to view enchanting evening dance performances. The performance stage, boasting a backdrop of the typical, ornate angkul-angkul traditional gate and guardian statues, hosts nightly dance performances with gamelan orchestras.
SHOP
Shopping is not a Gianyar specialty. Yet, due to it being home to a number of craftsmen villages, the region is definitely one of the best places to get your Bali souvenirs from.
Take Ubud for example. Located at the corner of Jalan Monkey Forest and Jalan Raya Ubud (where the Ubud palace is at), Ubud Art Market is a two-storey warren of stalls bursting with wood carvings, batik shirts, sarongs, jewellery, trinkets, and all manners of souvenirs aimed specifically at visitors to the area. You will also find a few internationally-branded stores and leading surf brands along with local fashion retails in Ubud – found mostly along the Monkey Forest Road. Jalan Hanoman, too, has become an increasingly fine shopping street.
In addition to Ubud, the Sukawati Art Market is a good place to explore the Gianyar shopping experience in a natural way, get in touch with the locals, and learn from them about the art of negotiation.
GET ACTIVE
The Taro area in Gianyar, which is slightly north of Ubud, is home to the scenic hinterlands with sprawling rice fields, lush jungles, a bamboo forest, and is rich in wildlife. The area provides an ideal playground for leisurely activities such as mountain cycling and trekking, where you get to see firsthand how the locals go about their daily routines, while passing endless greenery and plantations of coffee, coconut, palm and tropical fruits. Taro is also home of the renowned Mason Elephant Park & Lodge, Bali's only dedicated elephant rescue park that allows visitors to get up close and personal with gentle giants.
Mason Adventures has also launched Mason Jungle Buggies in the area. The first of its kind in Bali, this exciting activity gives you a taste of how it feels to experience pure motoring pleasure in the seat of off-road speed machines.
The course at Mason Jungle Buggies spans a total of 4.5km over each lap, crafted with the hardiest adventure seekers in mind to provide an exciting and intense driving experience like no other on the island. The off-road vehicles available are the single-seated ACE model with its 325 CC engine and the two-seater Polaris RZR model with its 570 CC engine if you want to ride with a friend or guide. To ensure driver safety during your jungle drive, both of the vehicles boast certified roll cages, three-point seatbelts, safety nets and a custom-fitted horn.
NIGHTLIFE
Nightlife in Ubud, as far as the drinking scene goes, almost resembles that of Seminyak and Kuta, especially with the current establishment of a number of great venues offering equally great night caps. With that being said, for a real taste of local nightlife you might want to make your way to downtown Gianyar.
Driving 10 kilometres southeast from the main Ubud hub, you'll find the capital of the Gianyar regency, which is also named Gianyar. Old Balinese buildings line the two sides of Gianyar's Jalan Ngurah Rai main strip. These buildings, mostly shop houses, sell various goods that range from electronic appliances, handmade music instruments (they have seriously nice guitars here), watches, clothes, and groceries. And to add to that charming, traditional rural atmosphere in the Gianyar Night Market, also located on the street.
As a thriving traditional market scene, Gianyar Night Market is the place to indulge in the sumptuous local dishes. From chicken noodles to bakso and satays, and of course the Balinese favourite suckling pig and "halal" Javanese delicacies to traditional snacks, cakes, and desserts – you're seriously spoilt for choice here. For visitors, these meals-on-wheels can serve as an introduction to and serve as an opportunity to unravel various local foods, served in a totally different atmosphere.
There's also a whole host of other vendors selling lots of other goods at Gianyar Night Market. You can find shoes and sandals, t-shirts and shorts, electronics, homewares, women's accessories, offering flowers, toys, and even undergarments here. But if you're here for the food, in addition to the mobile food stalls, there's also a dedicated area right across street where you'll find rows of eateries offering various local dishes.
About Author :
Namhar Hernanto
One of NOW! Bali's previous but long-standing editors who enjoys all of Bali's offerings. On weekdays he enjoys deliberately getting lost, taking the wrong turn in distant villages, seeing what travel treasures he may find. Weekends are for indulgence, where you may catch him imbibing on a classic cocktail or savouring the pleasures of a fine dining establishment.