Dinner and Drinks : A Night of Fine Wining and Dining in Bali
Indulging in Bali's top dining scene is all part of the 'living the island life' package. Every corner on the island holds a culinary adventure! Trends come and go, but they have ultimately shaped Bali's food and beverage industry over the years.
Whilst Bali is arguably in the vanguard of a move towards taking healthier steps, there's no harm for us self-proclaimed food connoisseurs to relish in the island's sumptuous alternatives. So, if you're looking for somewhere to settle into for dinner accompanied by signature cocktails and fine wines, here's where to head:
---
Let's commence the list with the sought-after French fine dining restaurant Métis (www.metisbali.com) in Petitenget. The award-winning restaurant offers an interpretation of classic French cuisines with a Mediterranean twist and delivers an exclusive gastronomic experience in an elegant yet comfortable setting. Led by corporate chef Nicolas "Doudou" Tourneville, the team brings 'classic, inspired, and mouth-watering dishes' to your table. To start off your night, choose from fresh captures from the sea, such as Crab Ravioli, pan-seared Hokkaido Scallop, slow cook Octopus, to French Escargots, or Zucchini Flower Tempura for their vegetarian patrons. Alternatively, you can opt for a vegetarian or vegan soup and pasta, such as the Spinach and Zucchini soup or the Spinach and Almond Milk Cheese Ravioli. The meat and poultry mains range from Morrocan Lamb to Australian beef, chicken, duck, and pork options. To cater to seafood lovers, they have Wild Barramundi, Seafood Linguini, Salmon fillet, and Pacific Coral Trout. Métis's dessert menu has a selection of the classic soufflés, as well as non-gluten, vegan picks. Additionally, the bar prepares potent elixirs and holds an exclusive collection of wines from all over the world.
Located a few minutes from Métis, we travel to South-East Asian inspired Sarong Restaurant (www.sarongbali.com). Known for its reputable innovation and authenticity, Sarong is one of the most in-demand Asian fine dining establishments in Bali, if not in the region. Its busy kitchen and graceful interior decor welcome diners to luxuriate in highly-acclaimed chef Will Meyrick's signature twist of his passion for Asian cuisine. Dinner at Sarong is served daily at 6PM, with vegetarian and kids menu available. Sarong's dinner menu is a myriad of small plates, locally sourced vegetables, rice, and bread, as well as a colourful option of meat, fish, tandoori and curries. The cocktails are crafted by mixologist Joel Fraser that incorporates local fruits and spices. Try the Sarong Smash, a lemon-vodka based drink with orange, grapefruit, and Kaffir lime.
Not far down the road, you'll come across Rayjin Teppanyaki & Dining Bar (www.rayjinbali.com), another one of Seminyak's notable eateries. Staying true to the Japanese hospitality values, or 'Omotenashi', they devote themselves to deliver creativity and consistency of a fusion Japanese cuisine, whilst adjusting to both western and local tongue. The exquisite dining experience is added by critically picked raw ingredients treated with high-end teppanyaki cooking style. The star of the show is their teppanyaki selection, ranging from Chicken and Salmon teriyaki, Lobster Teppanyaki, Scallop Broccoli Motoyaki, ox-tongue, pork kimchi, to Steak Truffle rice, Okonomiyaki, and more. Aside from the exceptional flavours and cosy atmosphere, the bar offers premium wines, sakes, to in-house cocktails.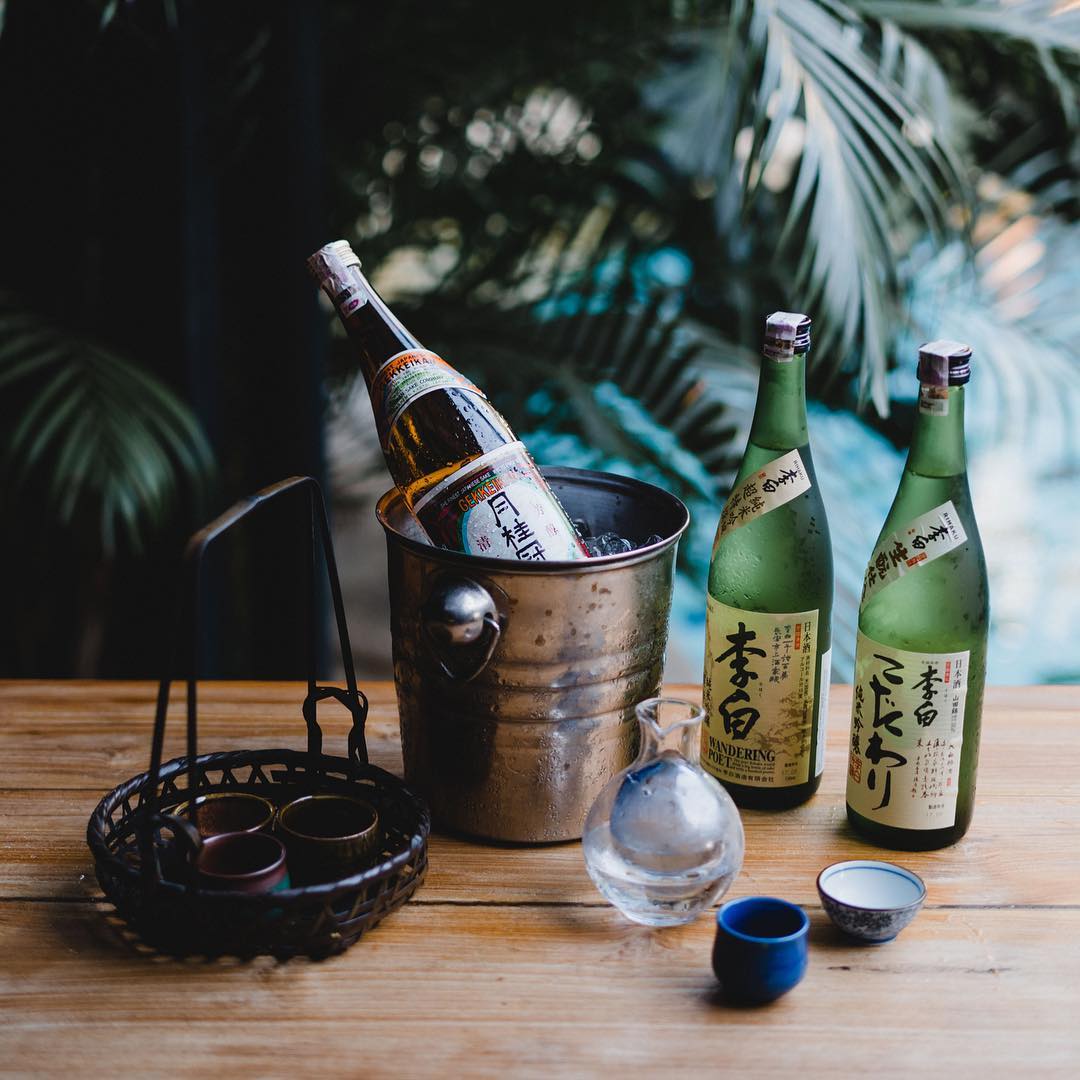 If you're on the hunt for fresh spices and crunchy bites, drive off to the northern edge of Seminyak and try Som Chai (www.somchaiindonesia.com). The Thai-inspired street food was conceptualised by Asia's famed Street Food Chef and the same man behind Sarong, Will Meyrick. Tucked in the heart of Kerobokan, Som Chai is accessed via a secret door that takes you from the hustle and bustle of the main road to the sultry 'Steam Punk Siam' restaurant. Meyrick's take on Thai street food is best shared; for you to get a taste of everything on the menu. Or if you're particularly famished, opt for the Feed Me menu where you'll get everything from starters to dessert without having to break the bank. From the Nam Doc grilled beef salad to the Gaeng Kiew Wan duck green curry for mains, you'll want to have a bite of them all. As for the cocktails, their pick of poisons are infused with botanicals, blended herbs and liquors, alongside a selection of artisan beers and fine wines.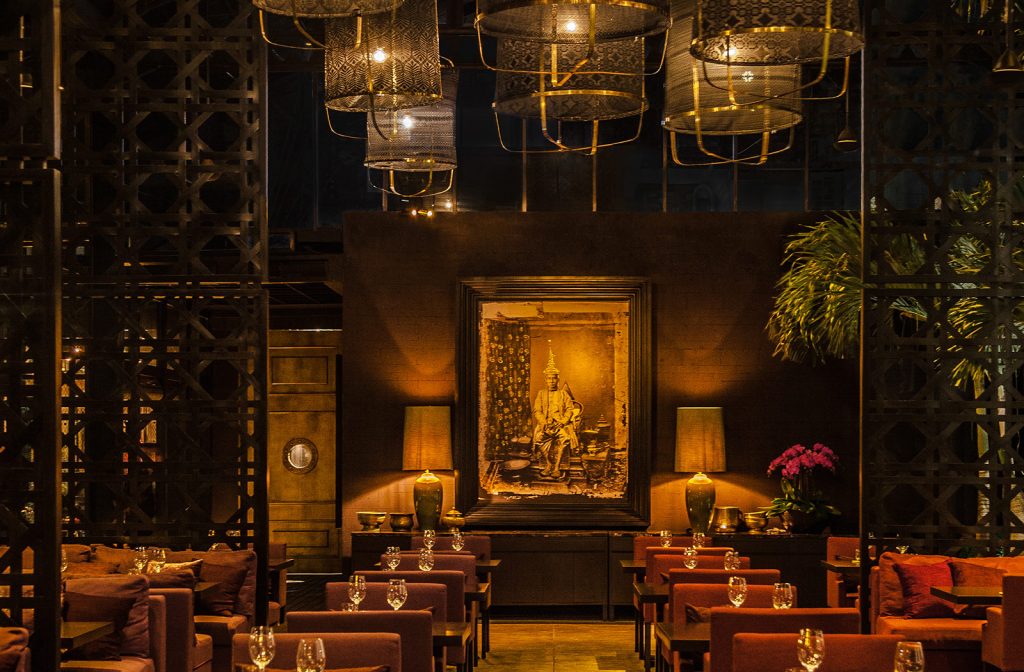 Heading south to Jalan Raya Seminyak, you'll find true flavours of India at Queen's Tandoor (www.queenstandoor.com). They take pride in being Indonesia's biggest chain of Indian family restaurants, serving authentic Indian cuisine since 1986, with four branches located in Bali. Embodying the taste, spirit, and culture of Indian cuisine, the well-established menu offers the mild flavours of Kashmir to the hot specialities of the south, including vegetarian and seafood dishes. Think of the classic, home-made curries, rich grilled chicken appetisers, biryani, and fluffy, tender naan.
Moving to Seminyak's Eat Street, there is a quirky restaurant discreetly tucked behind a temple called The Bistrot (www.bistrot-bali.com). Imagine high ceilings, brick walls, and wooden antiques. One step into this metro meets retro eatery and you'll be transported to a New York loft. The restaurant and bar serve a line up of international fare with a rustic flair orchestrated by the Moroccan and Belgian duo, Zohra Boukhari and Blaise Samoy. The food here will have you encounter elements of European and Asian Fusion, from the likes of a vintage Parisian bistro with a local, homemade touch. The decor easily steals the spotlight at The Bistrot; the urban-industrial interior makes you feel as though you're dining in an Orient Express railway carriage.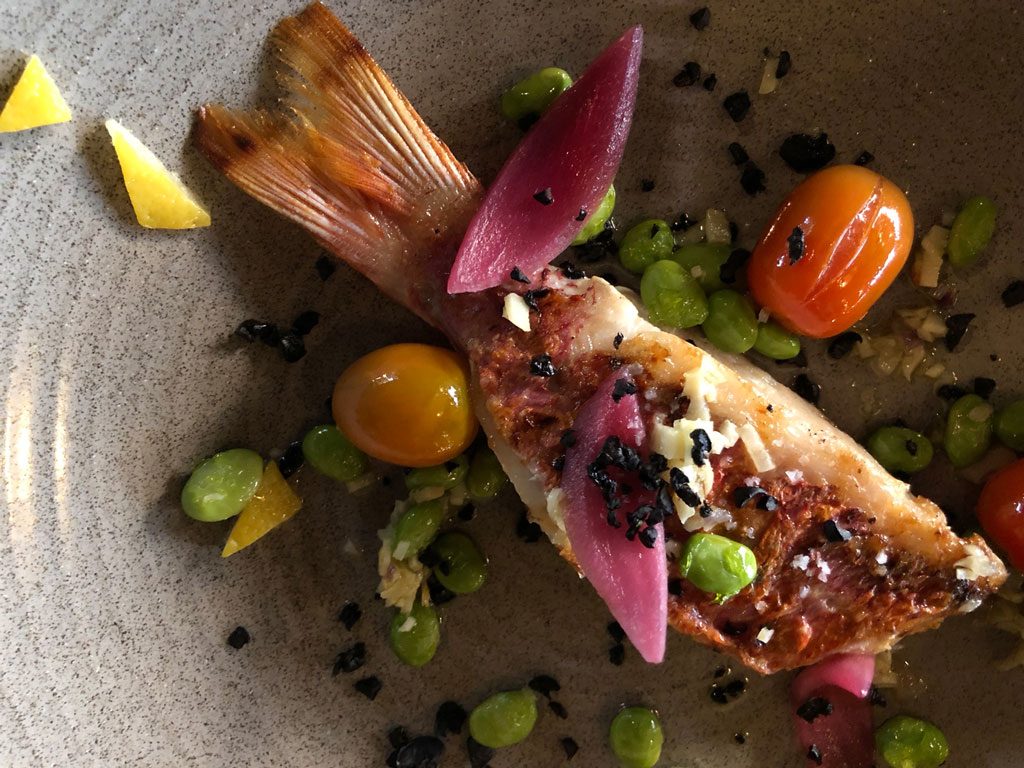 Leaving Seminyak and going to Legian, head over to Romeos Bar & Grillery (www.romeosbali.com) at Ossotel for an elevated level of home-cooked comfort food. Located minutes from the iconic Legian beach, Romeos exudes a welcoming and relaxed dining experience with handpicked local artists performing live to complete your evening. Their speciality is the in-house traditional grill, flaming up the finest selection of prime cuts. The crowd favourites include Pork Ribs, Barramundi, and Beef Tataki, in addition to the thoughtfully curated wine and cocktail list.
Situated in the heart of legendary Kuta is the legendary Poppies Restaurant (www.poppiesbali.com). Welcoming visitors and friends from all over the globe since 1973, the restaurant is set under a canopy of flowers and lush greenery. They pride themselves in their delicious, home-style dining options – the kind that warms the stomach and the heart! The menu has grown fast since their early salad days, however, a number of house favourites are still sought-after until today. The acclaimed Poppies Pina Colada is a must-try if you're visiting. Food wise, try their local delights (satays, gado-gado, nasi goreng) but their international dishes are worth ordering, too.
Moving all the way to the southern tip of Bali, Sofitel Nusa Dua Beach Resort (https://sofitel.accorhotels.com) hosts an elevated buffet experience at Kwee Zeen Restaurant, inspired by the street market scenes of Asia. The extravagant culinary line-up includes food from Japan, China, Thailand, South Asia, and local Indonesian favourites. The dishes are guaranteed to be unique and explosive, which are enjoyed by guests and visitors in an airy boutique dining setting. Feast on fresh salmon and giant king prawns, then go for dumplings, golden Pecking duck, Mango Thai salad, or biryani and lamb curry. Remember to save room for dessert, as you will want to have a bite or two of the crème brûlée and fresh macaroons!
A drive's away from Sofitel is the sensational Tamarind Kitchen and Lounge (www.nusaduahotel.com) located within the Nusa Dua Beach Hotel & Spa. The beachfront eatery serves local flavours with an international angle that cater to all taste. Tamarind is the resort's most recent addition to their wining and dining offerings. Built entirely of bamboo, it stands elegantly on the edge of Nusa Dua's white sandy beach and is undoubtedly an all-day attraction. The recommended signature dishes include bistro favourites and contemporary Asian dishes, such as Roasted Tuna Linguine and Chicken Tikka Burger. If you're feeling adventurous, try the local-inspired dessert Tamarilo & Spicy Fruit, a sorbet topped with spicy Balinese tropical fruit and seasoned with mango and ginger sauce chilli.
Located on the Jimbaran coastline is another prestigious Japanese restaurant for you to feast your palate. KO Restaurant & Cocktail Lounge (www.bali.intercontinental.com/ko-japanese) at the InterContinental Bali Resort is renowned  for its Teppanyaki, sushi bar, Balinese architecture combined beautifully with Japanese aesthetics. Open for dinner only, they offer three dining concepts; interactive culinary experience Teppanyaki, the sophisticated Restaurant, and the Cocktail Lounge for pre or post-dinner drinks. Savour in the theatrical event of Teppanyaki, where chefs perform their culinary artistry. KO's highlight is held every Friday, called 'Tokyo Nights', where diners have the liberty to choose eight out of the 15 special sushi selections, and free-flow sake and cocktails with an additional charge. Fresh sashimi and sushi rolls to order off the menu include the salmon, tuna, scallop hamachi (Japanese amberjack), unagi rolls, and the works.
Moving next door to the cliffs of Uluwatu, Sake no Hana (www.sakenohana.com/bali) was brought atop a limestone plateau in Bali from the heart of London. It is a fresh face located within one of Bali's newest day clubs, Omnia, which takes on authentic, fine dining Japanese experience. The a la carte menu is the most celebrated and features a selection of crafted bento boxes, charcoal grill, sushi, sashimi and kamameshi (rice meals cooked in a pot) dishes, all delicately crafted by head chef Hideki Hiwateshi. Picture manicured Zen garden and cherry blossoms in your head, as the brand's essence aims to 'reveal nature' in the menu, also reflected in the bamboo interior. In its delectable menu, you'll find signature items, such as the Salmon Hobayaki (char-grilled salmon on hoba leaf with red miso teriyaki) and freshly cut sushi rolls. Similarly, the drinks reflect strong Japanese influences, such as the classic Kirin, Asahi Super Dry, and Sapporo beers, premium sake,  omakase cocktails (chef's picks), and oshouban (pairing) wines.
Heading to the northwest side of the Uluwatu coast, you will be transported to Italy in the comfort of Radisson Blu Bali Uluwatu. Filini Bar & Restaurant (www.radissonblu.com/en/filini-restaurant) adds an Italian flavour to the food scene in south Bali, complete with the attraction of open kitchen views and natural surroundings. This restaurant takes pride in dishing up simple food with flourish and flair. Offering the best of the modern Dolce Vita, Filini Bar & Restaurant embraces contemporary Italian food, fine wines, and unpretentious service. From sea bass and mahi-mahi dishes with white wine pairings, pumpkin gnocchi, to lemon tarts, your appetite will be appeased in the most gentle way at Filini Bar & Restaurant.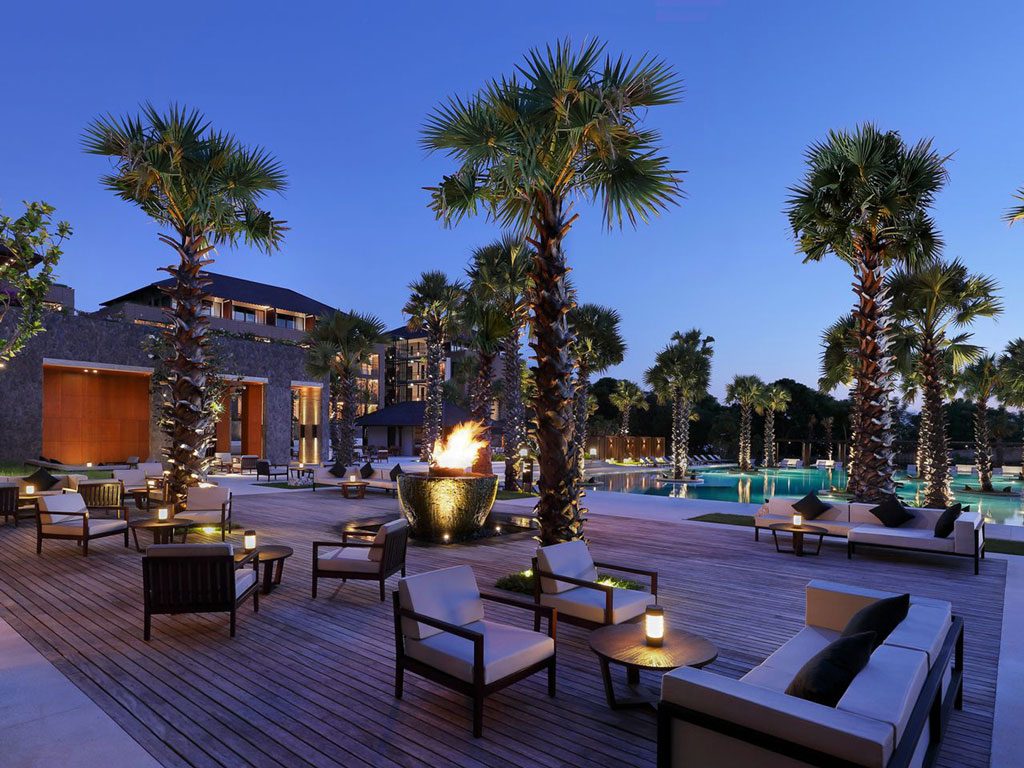 Driving north to the lush district of Ubud, immerse in a panoramic terrace dining at CasCades Restaurant (www.cascadesbali.com) at the Viceroy Bali. The magnificent views overlooking the verdant Petanu River valley will be as unforgettable as the fine dining cuisine. They offer European and Indonesian dishes that are both equally appetising. The former presents an exceptional incorporation of local produce and spices with high quality imported meats and seafood, including foie gras, Westholme Wagyu, Oscietra Caviar, and more. For those craving rich Indonesian flavours, chef Miles Belfield serves up Gado Gado, Balinese Jamu Salad, or the Lobster Rica-Rica, which is a fusion of both worlds.  CasCades's signature cocktail and the wine list are also as captivating, concocting all-time classics: mai tai, daiquiri, mojito, old fashioned; and their very own potions: Cucumber Breeze, Mango Fiesta, and more. The highlight is when they host a monthly full-moon dinner where Balinese dance performers take the centre stage!