Everyone's favourite holiday season is here! If you're spending Christmas in Bali this 2020, you'll be happy to hear that hotels and restaurants are putting on amazing feasts and spreads. Whether you're after a Christmas Eve dinner, Christmas Day Lunch or Brunch or something entirely different, look no further, our list covers all areas of the island.
– Updated for Christmas in Bali 2019 –
---
---
Hard Rock Hotel Bali
This year, Hard Rock Hotel Bali's Starz Diner will be preparing a festive Christmas dinner. Dive into a sumptuous buffet dinner, featuring Honey Roasted Gammon Ham, Roast Turkey, Roast Beef, Live Cooking Stations, Christmas Yule Log Cake and Mince Pies. Santa Claus (and 'Santarina') will also be making an appearance at dinner time.
Hard Rock Hotel Bali invites you to enjoy this festive season in the heart of Kuta, and make amazing memories for your Christmas time in Bali. Priced at IDR 525.000 net/adult and IDR 265.000net/child under 12 years old, inclusive free flow soft drinks and chilled juice, or enjoy Christmas Buffet Dinner with free beer, cocktails, wines, juices and soft drinks for IDR 900.000 net/adult.
Spread the spirit of Christmas with us at the Starz Diner with a special appearance by Santa Claus and Santarina. For more information and reservation, please contact us at (0361) 761 869 at extension 7522.
Book Now
0361 761 869 ext. 7522
---
Mercure Bali Legian
Experience a heart-warming holiday with your loved ones and create everlasting memories with a festive season staycation at Mercure Bali Legian, where they've come up with several exciting culinary programmes including a themed Christmas Day dinner decorated with vibrant colours and tropical vibes, complete with free-flow service starting from IDR 300,000nett/person. Enjoy your dinner whilst serenaded by live music and the children's choir.
Book Now
+62 361 9386 100
---
Poppies Restaurant Bali
Settle into an absolute classic Bali destination, the legendary Poppies Restaurant. This charming oasis in Kuta invites you to celebrate Christmas in the most Balinese way possible, with none other than the popular Babi Guling, Balinese Roast Pork. On both the 24th and 25th of December, for either lunch or dinner, dive into an extra special presentation of Bali's best known dish, spit-roasted pork, stuffed and basted with delicious herbs and spices, served with crispy crackling, Balinese-style vegetables, spicy sausage, satay, potato patties, steamed rice and hearty broth. Priced at IDR 205.000++. Enjoy Christmas in a Bali restaurant that has been going since 1973!
Poppies Restaurant
+62 361 751059
www.poppiesbali.com

Sands Restaurant
Pamper your loved ones with thoughtful Christmas wishes while listening to Christmas carols as the gentle breeze comes off the sparkling Indian Ocean during Christmas Eve dinner at Sands Restaurant, the beachfront dining venue of The Anvaya Beach Resort Bali. A five-course set menu dinner awaits at Sands Restaurant Leisure Deck at IDR 750,000++ per person, as well as a Seafood Barbecue at Sands Restaurant Deck, both serenaded by a Christmas Choir comprising children from a local orphanage. Santa Claus will also visit the restaurant to entertain you.
On Christmas Day, a Christmas Brunch with a kids' choir performance is available at IDR 350,000++ per person inclusive of a sparkling cocktail on arrival and 50 percent discount for kids under 12 years old. Meanwhile, a five-course set menu Christmas Family Dinner is also available at IDR 750,000++ per person. The little ones can enjoy having their pictures taken, as well as receiving memorable gifts from Santa and Santarina during the dinner.
Sands Restaurant, The Anvaya Beach Resort Bali
www.theanvayabali.com

Big Fish Bar & Grill 

On Christmas Eve, delight your taste buds at Big Fish Bar & Grill with a sumptuous spread full of festive cheer while indulging in the harmony of Christmas Carols. Dinner will start at 6pm to 11pm with the price of IDR 400,000++ per person including soft drinks; IDR 1,200,000++ per person including three hours free flow of beer, local wine and seasonal cocktails; and IDR 1,400,000++ per person including three hours free flow of sparkling wine, beer, local wine and seasonal cocktails.
On Wednesday, 25 December 2019, it's not Christmas without a grand Christmas Day brunch featuring Chilled Seafood Bar, Traditional European Cheeses, Juicy Steaks, BBQ Station, Chocolate Lab and much more. A special Kids Christmas Buffet is also available for the little ones, where they can sing along to the Christmas tunes and enjoy the Santa Baggie. The brunch starts at 12pm – 4pm and is priced at IDR 675,000++/person, including soft drinks; IDR 1,350,000++/person, including a 4-hour free flow of beer local wine and seasonal cocktails; and IDR 1,600,000++/person, including a 4-hour free flow of sparkling wine, beer, local wine and seasonal cocktails.
The Stones – Legian, Bali
+62 361 300 5888
www.marriott.com
---
---
Alila Seminyak
Christmas Eve: celebrate Christmas Eve with your loved ones over a 4-course Coastal Christmas dinner at the resort's beachfront dining venue, Seasalt. Indulge in a tantalising menu of classic Christmas favourites along with a glass of mulled wine or innovative cocktails crafted by Alila Seminyak's mixologist duo, Ayip and Daniel. Enjoy the dinner as the beautiful voice of Lydia Rose serenades you with Christmas carols throughout the night and expect a visit from a special Seasalt Santa Claus. What better way to celebrate Christmas in Bali than by the sea?
The Coastal Christmas dinner starts at 6pm onwards and is priced at IDR 590,000++/person.
---
Anantara Seminyak
Christmas Eve: On 24 December, Anantara Seminyak has prepared a lavish Christmas Eve set dinner at Sunset on Seminyak, their open-air, beachfront restaurant, priced at IDR 567,891/person.
Christmas Day: the resort is going the extra mile with a bountiful brunch, complete with all the festive favourites from around the globe, priced at IDR 567, 891 /person.
Merriments at Sunset on Seminyak will follow through the evening with an opulent Christmas Day dinner priced at IDR 567,891/person. It wouldn't be Christmas without presents, which is why guests will be surprised with gifts tucked under the Christmas tree at MoonLite Kitchen and Bar, the resort's iconic rooftop restaurant.
Take advantage of the early bird promotion and book your Christmas in Bali plans now. Enjoy up to 40% savings for the Christmas Day Brunch. Book in September and get a 40% discount, October – 30% discount, November – 20% discount, and up until December 16 – 10% discount.
---
W Bali – Seminyak
W Bali – Seminyak celebrates the season with 'Light It Up' from Christmas right through to the New Year.
Spice up your Christmas in Bali as the luxury resort lays out world-class dining experiences in their restaurants, including a super brunch at the seaside Starfish Bloo. Here a sumptuous seafood buffet awaits, with a special lobster bisque on offer, paired with the pumping beats from W's top DJ's. For those after a more carnivorous Christmas Day, head to the resort's famous FIRE restaurant where a Smokehouse BBQ and European charcuterie will take you on a meat-filled feast. Here, chilled tunes and live music acoustic set will set the scene.
CHRISTMAS DAY
Starfish Bloo Super Brunch (12PM-4PM) – Bubbles package: IDR 2,200,000
FIRE Super Brunch (12PM-4PM) – Bubbles Package: IDR 2,200,000

Reservations:
+62 361 3000 106 | [email protected]
www.wbaliseminyak.com
---
SugarSand Beachside Bar & Restaurant
For this festive season, SugarSand Beachside Bar & Restaurant invites guests on an extraordinary Christmas lunch by Seminyak Beach.
Where better to spend Christmas in Bali than by the beach. SugarSand has prepared an exception 5-course set menu special for the season, the menu includes: Cured Scallop to start, followed by a BBQ Quail Bitter Leaf with truffle honey and pistachio; the Barramundi fillet comes with tarragon butter and spiced macadamia; the piece de resistance, a Hot Smoked Beef Short Rib; and finally to finish a creative Christmas Pudding Ice Cream, with raspberry, matcha sponge and almond crisp. Tie that in with their free flow beverage package (featuring signature cocktails like a Red Apple & Cinnamon G&T and butterscotch Espresso Martini) and you're in for a good-time Christmas!
The lunch will take place between 12pm and 4pm. 5-course set menu:
– IDR 650,000 Net per person (Food only)
– IDR 1,200,000 Net per person (Including free-flow beverages)
Book Now
+62 361 209 9999 | [email protected]
www.sugarsandbali.com
Trans Resort Bali
This Christmas marks the debut of The Trans Resort's newly appointed Executive Chef Amaury Belkhanfar, who has prepared an exquisite 4-course, 'Taste of Winter' dinner to celebrate Christmas Eve here in Bali.
Presented at 'The Restaurant' by The Trans Resort Bali, Chef Amaury will has prepared delicacies from his home country, France! The dinner starts with three different kinds of amuse bouche. Then the real dinner begins: Terrine de Foie Gras with a warm red wine shot (like a Christmassy mulled wine!); a crispy Barramundi fillet dipped in romaine coulis and Champagne beurre blanc emulsion; for the main, a succuleny, 7-hour cooked short-rib with fall-off-the-bone meat, served with grilled vegetables and caramelised potato. Finally Chef Amaury gets creatiev for his dessert with a signature 'La Mini Buche de Noel', a Yule log decorated specially with little Santas.
On Christmas Day, The restaurant will serve up a tasty Christmas Buffet, featuring a Christmas choir, visit from Santa Claus and more goodies during the day.
Christmas Eve Set Dinner: IDR 450.000++ per person
Christmas Day Buffet Lunch : IDR 350.000++ per person
+62 361 8981234 | [email protected]
www.transresortbali.com

---
Ku De Ta
This Christmas in Bali, why not settle into one of Bali's most iconic destinations, Ku De Ta, the pioneer of beachfront lifestyle on the island. For Christmas Eve, fine dining restaurant Mejekawi found inside Ku De Ta has prepared a Christmas Eve Luxe Seafood Dinner, with a lavish 8-course tasting menu. Indulge in some of Indonesia's finest wild-caught seafood paired with festive flavours (6pm-11pm, IDR 1.200.000 dinner only, IDR 2.000.000 wine pairing).
On Christmas Day, delight in a playful yet traditional Christmas lunch at Ku De Ta or Mejekawi delivered through 6 nostalgic courses. The festive fun continues as the kids get stuck into a bucket loads of surprises – arts & crafts, goodies from Santa, and more! With live entertainment bringing us towards a stunning Christmas sunset, there's not much to do but kick back and sip on a festive cocktail while the magic unfolds. (12pm – 4pm, IDR 950.000 or IDR 1.500.000 with wine pairing only available at Mejekawi).
www.kudeta.com
or www.kudeta.com/mejekawi
Desa Potato Head
Over at Desa Potato Head, you'll have plenty of dining destinations to choose from this Christmas season. Choose between sustainable seafood restaurant Ijen, a casual poolside picnic at the Beach Club, or a journey into Indonesia's more complex dishes at Kaum.
Ijen: Tuck into the tropical flavours of Ijen with a special selection of line-caught whole fish, calamari, grilled prawns and ceviche with farm-fresh vegetables, all topped off with a new sweet treat for dessert.
(24-25 Dec, 12-10pm — Rp.450.000++ per person).
Beach Club: Sprawl out on a Beach Club daybed while sharing a charcuterie board or classic roast (chicken, beef or vegetables) for your very own Potato Head picnic. Go ahead and pair it with a bottle of bubbles (or two)—because it's the holidays! (24-25 Dec, 10am-late — Rp.185.000-375.000 per board for two).
Kaum: Journey into Indonesia's more complex dishes traditionally reserved for special ceremonial events. Chef Wayan and his team have created an authentic menu designed for sharing, which will bring joy to the whole family this festive season. (24-28 Dec, 12-10pm — dishes from Rp.140.000++).
[email protected] |+62 361 4737979
www.potatohead.co
---
---
Hotel Tugu Bali
It's going to be a heartwarming Christmas at this very classic destination in Canggu, as Hotel Tugu Bali shares in the joys of giving for this very festive season. By joining the special Christmas Eve Dinner you will be donating directly to the hotel's 'Tugu & Friend's Library'. The library was founded to support communities in Lombok that were impacted by the 2018 earthquake. It's aim is to serve the children in the village of Sire and Gangga, where children will borrow books and attend weekly English classes taught by Tugu's own team members and even visiting guests. For further away villages, books will be driven out to them once a week.
All the profits from Hotel Tugu Bali's Christmas Eve Dinner will be donated towards the program. Dinner is priced at IDR 699.000++/person, starting at 7pm with welcome cocktails at 6.30pm.
Hotel Tugu Bali
www.tuguhotels.com

Como Uma Canggu

Known for their health and wellness practices, COMO Uma Canggu invites you to start your Christmas Eve with a a gratitude meditation session at the Yoga Studio (5pm), themed 'A Karmic Practice'. In the act of giving, donations for the local Canggu orphanage will be collected after the yoga session. At 6pm, join in singing Christmas carols sung by the COMO Uma Canggu before sitting down to a sumptuous Christmas Eve Dinner at COMO Beach Club with a family-style menu (IDR 550,000++/person).
On Christmas Day, convene over at COMO Beach Club for a leisurely Christmas Day Brunch from 12pm-4pm, accompanied by beats with live DJ, priced at IDR 600.000++/person.
COMO Uma Canggu
www.comohotels.com/umacanggu

Avenue A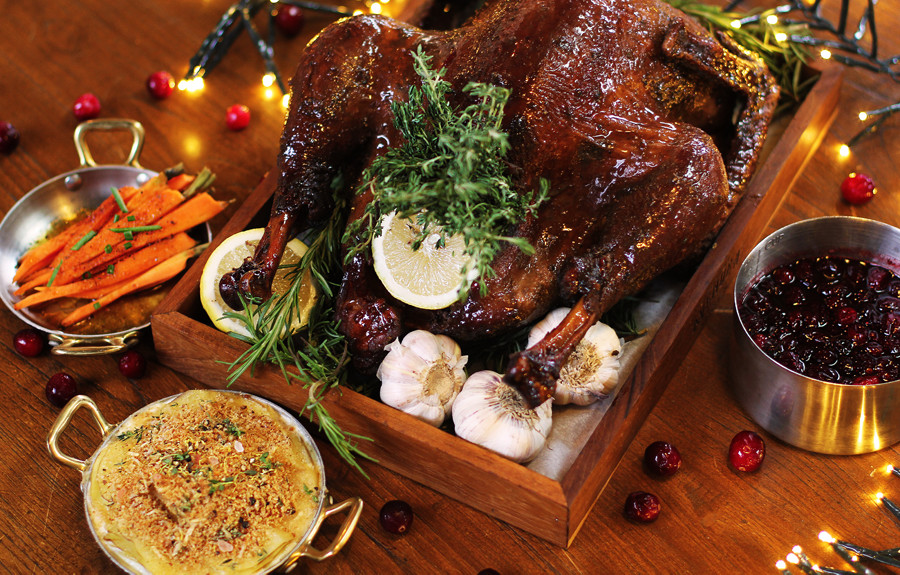 This Christmas Day (25 Dec), New York native Chef Billy Joe takes his mastery of meat to the ever-popular poultry of the holiday season: turkey!
Celebrating their first Christmas, Avenue A presents the traditional dinner but with a twist. Their set menu for 2 includes spiced rum eggnog, apple cider glazed turkey or ham, smoked slow and low, served with gravy, cranberry sauce, potato gratin, southern drop biscuits and more. Dessert brings with it the sweetness of the season with a signature Valrhona chocolate lava cake with raspberry caramel and vanilla gelato. Priced at Rp. 249.000++ per person.
[email protected] |+62 361 3003 438
www.avenueabali.com
Indigo Canggu
This year Chef Shige of intimate Japanese restaurant, Indigo Canggu, has been working hard to create a selection of Festive Season's Specials, using premium imported produce, perfect for getting you into the festive spirit.
The finest ingredients have been selected to create 7 exquisite dishes, available for a limited time only. These include the likes of Caviar from Gironde, Sea Urchin from Hokkaido and Crab from Alaska, each delicately assorted for a firework of textures and savours. This festive menu is available from 16 December to 5 January 2020. Booking in advance is highly recommended.
+62 819 9888 8018 | [email protected]
www.indigocanggu.com

---
---
Four Seasons Jimbaran
Watch Four Seasons Jimbaran's specialty chefs in action at Taman Wantilan as they present a traditional Christmas Eve buffet, while for Christmas Day will feature a mix of Asian and Western favourites. Don't miss the dessert buffet from #1 World's Best Chocolate Chef, Yusuke Aoki.
24 December Christmas Eve Buffet IDR. 1,750,000++
25 December Christmas Day Buffet IDR. 695,000++
For a real treat though, hit Jimbaran Bay on Christmas Eve to watch Santa literally surf his way to shore at 2pm, at Four Seasons Jimbaran's Coconut Grove.
Full Festive Program
+62 361 701010
www.fourseasons.com/jimbaranbay/
---
Sundara Bali
What better way to spend Christmas in Bali than to sit back and enjoy the beach-front views and chic ambience of Sundara, complete with a five course Christmas-inspired menu on Christmas dinner!
Priced at IDR 1,750,000++
Full Festive Program
[email protected] | +62 361 708333
www.sundarabali.com
---
Sake no Hana Bali
Sake no Hana Bali, perched in a distinguished location overlooking OMNIA Dayclub Bali on the cliffs of Uluwatu, invites you to indulge in their alternative seasonal dishes. Known for offering some of the finest Japanese and seafood offerings on the island, this tailored menu made for the holiday season presents supreme ingredients such as blue fin tuna, premium grade wagyu beef and the best of Indonesian seafood. The menu actually goes beyond the Christmas, being available from the 16th to the 30th of December, allowing you ample time to come and savour what the Chef has prepared.
BOOK NOW
Sake no Hana Bali at OMNIA Dayclub Bali
[email protected] |(0361) 8482 150.

---
Clay Craft Restaurant and Pottery School
Let Clay Craft pamper you as you celebrate Christmas with your loved ones. Enjoy super fresh, chilled seafood, traditional turkey, slow roasted beef, honey baked ham, and Chef Nico's Christmas cakes, chocolate creations, desserts, and seriously plenty of local and western main courses. If the fabulous Christmas spread is not enough, you can also expect heaps of Christmas goodie bags, cookies, and cool stuff for the kids to do, as well as access to Renaissance Bali's infinity pool. 24 December: Christmas Eve dinner buffet (IDR 700,000++ per person), 25 December: Christmas Day brunch (IDR 800,000++ per person).
These special dining events are free for children below six years, and children aged 6-12 years enjoy 50% discount.
Renaissance Bali Uluwatu Resort & Spa
www.renaissancebali.com

---
Banyan Tree Ungasan
This Christmas season, Banyan Tree Ungasan's opulent Ju-Ma-Na Resetaurant, looking out over the Melasti Beach high on its clifftop perch, invites you to indulge in their Christmas delights. First, join them for their Little Paris Christmas Eve dinner, where an intimate 5-course dinner will set the scene for feast-filled festive season (IDR.1.700.000++/person or IDR.2.500.000++/person with wine pairing). On Christmas Day, dive into a feast for the family with their Joyful Christmas dinner at Bambu Restaurant, featuring a wide selection appetiser buffet and live salad station, before choosing your favourite main dishes from your table menu to be cooked a la minute! Priced at IDR 900.000++/person, or IDR. 1.400.000++ with free-flow wine.
Banyan Tree Ungasan
+62 361 708 333
www.banyantree.com
---
InterContinental Bali Resort
Delight in a luxurious Christmas Eve Dinner, with the option of a sumptuous buffet at the resort's Taman Gita, featuring an eclectic selection of International dishes whilst accompanied by live acoustic music, or savour in an elegant five-course dinner at the resort's Bella Cucina, featuring tantalising Italian set dinner carefully crafted by the expert culinary team.
On Christmas Day, Bella Cucina invites you to celebrate the merriest Christmas in style from day to night. From 2pm – 4pm, enjoy a relaxing Christmas Afternoon Tea featuring classic premium coffee and tea alongside an array of sweet and savoury treats, followed by the Christmas Day Dinner serving the finest five-course Italian favourites in mesmerising outdoor dining under the glistening stars.
InterContinental Bali Resort
+62 361 701 888
bali.intercontinental.com
---
St. Regis Bali Resort
Christmas Degustation Dinner
Kayuputi, 24 & 25 December 2019, 6.30 PM – 11:00 PM
The specialty beachfront fine dining restaurant, Kayuputi, invites you to indulge in a premier selection of their Asian-inspired Haute Cuisine dishes, showcased in a six-course degustation menu. Choose to revel within Bali's most distinguished dining room near the dramatic open kitchen or within the alluring beachfront gazebo overlooking the serene Indian Ocean. This will be one of the most decadent experiences for Christmas in Bali.
IDR 1,950,000 net per person
Christmas Dinner Buffet
Boneka, 24 & 25 December 2019, 6:00 PM – 10:00 PM
Let Boneka restaurant's traditional gala buffet bring back the memories of your family's beloved holiday classics. Tantalise your taste buds with a delectable selection of honey roasted Tom turkey from the carving trolley, Wagyu beef D-rump from the grill, sweet, mustard-glazed ham and sumptuous river lobster. Allow our meticulous pastry team to delight with artisanal European desserts such as festive Stollen and Yule Log, while listening to the seductive sounds of a live jazz band and the meaningful harmonies of a Christmas choir.
IDR 1,700,000 net per person
IDR 750,000 net per child (3 – 12 years old)
Book Now:
[email protected] | +62 361 8478 111
www.stregisbali.com
---
Westin Resort Nusa Dua Bali
For Christmas Eve, dine under the stars by Westin's magical poolside setting. This will be fun for all the family, with an elaborate buffet with Christmas specialties, succulent seafood, live music and a dynamic fire dance performance! 6-10pm , IDR 890.000 per person including a glass of wine, free flow soft drinks. IDR 350.000 for children 6-12 years.
Another option is to got Hamabe, where authentic Japanese cuisine awaits. Dine on unlimited sushi, sashimi, teppanyaki and robatayaki tasting dishes. Adults only, 6-8pm first seating at IDR 890.000, 8.30-10.30pm second seating at IDR 790.000.
For Christmas Day, there's no where more appropriate than the family-fun Italian dining destination, Prego. Join in the Christmas Day Brunch at Prego for an extensive buffet experience, live grill stations and more, with many games and entertainment for the kidsm including magican, baloonist, Santa clause, games in the garden, live music and more. 11.30am – 3pm – IDR 650.000, IDR 325.000 children 6-12 years.
Full Festive Program
[email protected] | +62 361 771 906
www.westinnusaduabali.com
---
Sofitel Bali Nusa Dua Beach Resort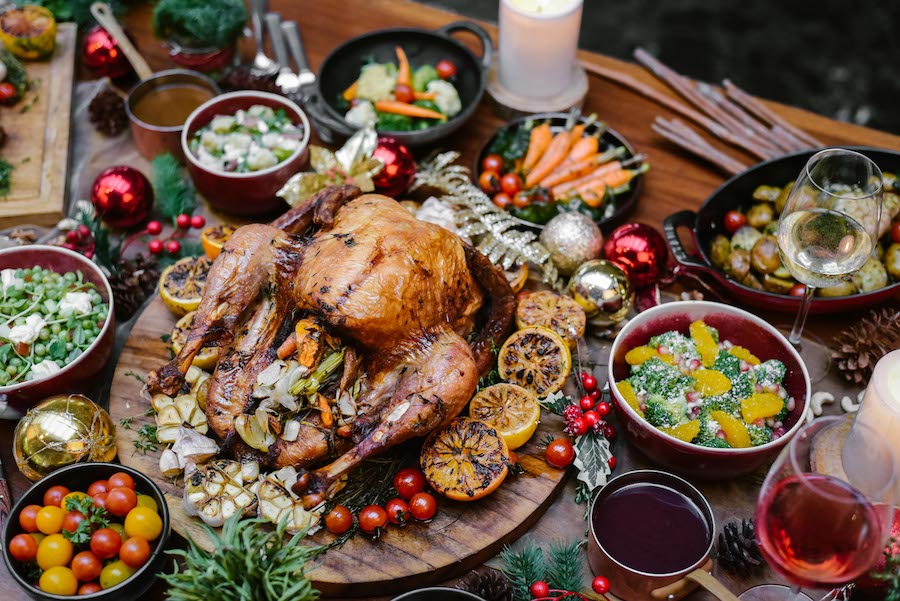 This luxurious resort is not only a dream destination for holiday-goers, it has secured a place as one of Bali's most sought after dining destinations for food lovers too. Famous island-wide for their brunch, held at Cucina, you can be sure that this feasts will be aplenty the Christmas in Bali.
Christmas Eve: Celebrate the night before Christmas with a 5-course degustation dinner at Cucina, featuring live entertainment by an acoustic band that will roam around with cheerful tunes, spreading the joys of the season (starts from IDR 699.000++). Or head to Kwee Zeen and indulge in a full on Christmas buffet, featuring Santa Claus himself (starts from IDR 499.000++). Both available 6pm-11pm.
Christmas Day: It's all about brunch on Christmas Day! Indulge in a full festive spread for your Christmas in Bali available in both Cucina (11am-3pm) and Kwee Zeen (12pm-4pm). Each venue will feature entertainment, including live acoustic band, children's choir singing Christmas carols, a magician's performance and an appearance from Santa Claus. Starts from IDR 899.000++. Christmas Dinner will also be available at Kwee Zeen from 6pm-11pm.

Book Now
+62 361 849 2888 | [email protected]

---
---
Chapung se Bali
Celebrate White Ubud Christmas this year at Chapung Sebali this 24 December, and devour a delicious five-course set menu in the resort's idyllic The Upper Deck. Your Christmas Eve dinner will be accompanied by Balinese Dance and jazzy carols surrounded by white Christmas decorations. The dinner starts at 7pm, and is priced at 975,000++ per person.
On Christmas Day, Chapung Sebali's Jungle Fish will roll out their Christmas Day buffet with all of the classic Christmas dishes, plus live carving stations, appetisers, and a selection of delicious desserts to satisfy your Christmas appetite (IDR 850,000++ per person). Christmas choir with traditional Angklung instrument will add the unique Balinese Christmas to your brunch.
Chapung Sebali
+62 361 898 9102
www.chapung.com

---
Desa Visesa Ubud
This year Desa Visesa is presenting Indonesian culture throughout their Christmas Eve celebrations in three of their restaurants, all of their dinners are available between 7pm-10pm:
Lesung Restaurant will be offering an International buffet dinner with pre-dinner cocktails and canapés. Dive into the many live carving stations, serving up roast turkey and all the traditional trimmings. There will be Balinese traditional entertainment. Santa will be paying a visit too.
IDR 575,000 net/person
Lumbung Restaurant presents an Indonesian Pop Up dinner. The restaurant will recreate a local Indonesian setting, featuring ethnic music. This will feature a 4-course dining experience over the river.
IDR 600,000 net/person
Padi Fine Dining has prepared a 7-course degustation heritage dinner in their elegant fine dining room. The chef will prepare your meal in front of you in their open, theatre-kitchen.
Food Only IDR 1,150,000 net/person
With Pairing IDR 1,750,000 net/person
BOOK NOW:
[email protected] +62 361 2091 788
www.visesaubud.com
---
Four Seasons Sayan

On Christmas Day, indulge in a special barbecue at Riverside Cafe, a dreamy, natural dining destination within the confines of the Four Seasons Sayan.
With over 10 years' experience at Michelin starred restaurants, Executive Sous Chef Jean-Philippe Guiard combines classic French technique with local flavours for a decadent semi-buffet dinner. Enjoy a buffet-style BBQ with unlimited orders; a selection of appetisers and desserts will be served at the table.
Priced at IDR 1.500.000++
Full Festive Program
62 (361) 701010
www.fourseasons.com/sayan/
Maya Ubud
Escape into the gorgeous Maya Ubud resort, cascading down a secluded Ubud ridge surrounded by lush tropical forest and ensconced by a flowing river. From 24 December to 2 January 2020, the resort's al-fresco Maya Sari restaurant will be offering a festive buffet dinner featuring all of your Christmas favourites including glazed ham, turkey with all the trimmings, yule log and classic Christmas pudding (IDR 695.000++/person, discount for children).
On Christmas Day, the restaurant will be offer a special lunch for those looking to rejoice in the festivities overlooking the river valley – start with a complimentary glass of sparkling wine before being seated. For dinner, it's a full-on experience with the Archipelago dinner Buffet with a Balinese Legong Dance Performance start at 7pm. If you're looking for something more peaceful and wellness-oriented, dine at River Café, where their 'Conscious Cuisine' with organic salads and tasteful pizzas complement your tropical surroundings by the riverbanks (10am-9pm).
BOOK NOW
Maya Ubud Resort & Spa
www.mayaresorts.com
CasCades
CasCades at Viceroy Bali comes alive for the festive season. The restaurant's chefs and culinary team have created a sumptuous Christmas feast for you to indulge in on Christmas Eve and Christmas Day. The special set menu for lunch and dinner this 24 – 25 December includes canapés, Foie Gras (French Duck Liver Terrine, Smoked Duck Breast, Green Apple, Kohlrabi, Gingerbread), Scallops (Seared Hokkaido Scallop, Parsnip, Crème Brown Butter & Garden Herbs), Canadian Lobster (Poached, Confit Fennel, Saffron Emulsion, Dill), Butternut Squash Veloute (Smoked Ham, Leek Oil), Palate Cleanser (Kafir Lime Sorbet), Turkey (Roasted Turkey, Oyster Mushroom, Cranberry, Pommes Dauphine, Truffle Sauce) or Barramundi (Seared Skin Barramundi, Young Carrot, Eggplant Crème, Crab Cannelloni, Prawn Emulsion), and Christmas Pudding (Classic Xmas Pudding, Vanilla Sauce, Caramel Ice Cream).
The menu may slightly change due to daily fresh produces, and wine pairing is available.
CasCades at Viceroy Bali
www.cascadesbali.com

---
---
Fairmont Sanur Beach Bali
Revert back to the quiet shores of Sanur this year-end holiday and enjoy the company of your loved ones in the private sanctuary of Fairmont Sanur Beach Bali. The elegant resort has put together wonderful feasts to celebrate Christmas.
The festive feasts will commence on the evening of Tuesday, 24 December 2019 with a Christmas Eve set menu dinner at Layang-Layang Restaurant or a Christmas Eve Buffet dinner at Nyala Beach Club & Grill. The festivities continue the next day with a mouth-watering Christmas Brunch on Wednesday, 25 December 2019 at Layang-Layang Restaurant from 12pm and a Boxing Day Barbecue the following day on Thursday, 26 December 2019 from 5pm -9pm.
Fairmont Sanur Beach Bali
Jalan Kusuma Sari No. 9, Sanur
+62 361 3011 888
[email protected]
fairmont.com
---
Maya Sanur
Head to the wonderful, east-facing shores of Sanur for a bespoke Christmas experience in the elegant Maya Sanur Resort. For Christmas Eve, dive into a different yet colour dinner buffet at Reef restaurant, featuring an extravagant selection of assorted cold cuts, live station (crispy duck pancake, grilled seafood, meat carving station), chocolate fountain and Christmas specials (yule log and eggnog) at IDR 780.000++/person. On Christmas Day, head to Graze for a showcase three-course menu starting with a Foie Gras Terrine, moving on to Roast Turkey with all the trimmings and finish with a sweet Apple Teurgoule (IDR 380.000++/person).

BOOK NOW
Maya Sanur Resort & Spa
www.mayaresorts.com
---
ARTOTEL Sanur
With a theme of Holiday All the Way, the art-driven ARTOTEL Sanur is putting all the stops to ensure a memorable and comfortable festive holiday for its guests.
From 1-28 December 2019, delight in a special Festive Season menu that can be enjoyed at the authentic Indonesian Lidah Lokal Restaurant or the industrial-designed BART rooftop bar. On Tuesday, 24 December 2019, enjoy a sumptuous Christmas Eve Dinner at Lidah Lokal starting from 6pm onwards, featuring a four-course set menu and a glass of wine and priced at IDR 300,000nett/person.
Participate in a fun Christmas Cookie Baking activity that is available for kids and adults on 20-24 December 2019, from 2pm – 4pm. The activity is priced at IDR 100,000nett/person and reservations can be made through WhatsApp +62 857 3934 4965 (Setiawan).
---
ARTOTEL Sanur – Bali
Jl. Kusuma Sari No. 1, Sanur
+62 361 472 1000
[email protected]
https://artotelgroup.com/hotels/artotel/sanur-bali/
---
ARTOTEL Beach Club
ARTOTEL Beach Club is celebrating the festive season with a special Holiday All the Way promotion featuring a variety festive dining experiences as well as vibrant celebrations. Indulge in an array of special holiday menu throughout December such as Festive Beer, Festive Wine, Festive Cocktails and Festive Tapas.
Delight in a heart-warming Christmas Eve Dinner with family and friends on Tuesday, 24 December 2019, where they've prepared a special Christmas menu from 6pm – 9pm. The Christmas Eve Dinner is priced at IDR 450,000/person, with a variety of festive cocktails priced at IDR 100,000. Live music performance by Kezz & The Musicmates will serenade you throughout your dinner.
On Wednesday, 25 December 2019, enjoy the Christmas Brunch featuring a sumptuous buffet brunch menu from 11am – 3pm, priced at IDR 450,000. Feast on the tantalising spread offered with tunes provided by DJ Ardi Herdyana. There will also be a special 2-hour free flow of cocktails for IDR 150,000/person.
ARTOTEL Beach Club
Jl. Danau Tamblingan no. 35, Sanur
+62 361 4491 888
[email protected]
https://artotelgroup.com/restaurants-bars/artotel-beach-club/
---
Make sure you don't miss the latest update for this year's Christmas in Bali promotions:
Subscribe to our e-newsletter
Follow us on Facebook | Follow us on Instagram