Christmas in Bali 2019 : Lunches, Dinners, Celebrations
Everyone's favourite holiday season is here! If you're spending Christmas in Bali this 2019 , you'll be happy to hear that hotels and restaurants are putting on amazing feasts and spreads. Whether you're after a Christmas Eve dinner, Christmas Day Lunch or Brunch or something entirely different, look no further, our list covers all areas of the island.
– Updated for Christmas in Bali 2019 –
---
---
Hard Rock Hotel Bali
This year, Hard Rock Hotel Bali's Starz Diner will be preparing a festive Christmas dinner. Dive into a sumptuous buffet dinner, featuring Honey Roasted Gammon Ham, Roast Turkey, Roast Beef, Live Cooking Stations, Christmas Yule Log Cake and Mince Pies. Santa Claus (and 'Santarina') will also be making an appearance at dinner time.
Hard Rock Hotel Bali invites you to enjoy this festive season in the heart of Kuta, and make amazing memories for your Christmas time in Bali. Priced at IDR 525.000 net/adult and IDR 265.000net/child under 12 years old, inclusive free flow soft drinks and chilled juice, or enjoy Christmas Buffet Dinner with free beer, cocktails, wines, juices and soft drinks for IDR 900.000 net/adult.
Spread the spirit of Christmas with us at the Starz Diner with a special appearance by Santa Claus and Santarina. For more information and reservation, please contact us at (0361) 761 869 at extension 7522.
Book Now
0361 761 869 ext. 7522
---
---
Alila Seminyak
Christmas Eve: celebrate Christmas Eve with your loved ones over a 4-course Coastal Christmas dinner at the resort's beachfront dining venue, Seasalt. Indulge in a tantalising men of classic Christmas favourites along with a glass of mulled wine or innovative cocktails crafted by Alila Seminyak's mixologist duo, Ayip and Daniel. Enjoy the dinner as the beautiful voice of Lydia Rose serenades you with Christmas carols throughout the night and expect a visit from a special Seasalt Santa Claus. What better way to celebrate Christmas in Bali than by the sea?
The Coastal Christmas dinner starts at 6pm onwards and is priced at IDR 590,000++/person.
---
Anantara Seminyak
Christmas Eve: On 24 December, Anantara Seminyak has prepared a lavish Christmas Eve set dinner at Sunset on Seminyak, their open-air, beachfront restaurant, priced at IDR 567,891/person.
Christmas Day: the resort is going the extra mile with a bountiful brunch, complete with all the festive favourites from around the globe, priced at IDR 567, 891 /person.
Merriments at Sunset on Seminyak will follow through the evening with an opulent Christmas Day dinner priced at IDR 567,891/person. It wouldn't be Christmas without presents, which is why guests will be surprised with gifts tucked under the Christmas tree at MoonLite Kitchen and Bar, the resort's iconic rooftop restaurant.
Take advantage of the early bird promotion and book your Christmas in Bali plans now. Enjoy up to 40% savings for the Christmas Day Brunch. Book in September and get a 40% discount, October – 30% discount, November – 20% discount, and up until December 16 – 10% discount.
---
W Bali – Seminyak
W Bali – Seminyak celebrates the season with 'Light It Up' from Christmas right through to the New Year.
Spice up your Christmas in Bali as the luxury resort lays out world-class dining experiences in their restaurants, including a super brunch at the seaside Starfish Bloo. Here a sumptuous seafood buffet awaits, with a special lobster bisque on offer, paired with the pumping beats from W's top DJ's. For those after a more carnivorous Christmas Day, head to the resort's famous FIRE restaurant where a Smokehouse BBQ and European charcuterie will take you on a meat-filled feast. Here, chilled tunes and live music acoustic set will set the scene.
CHRISTMAS DAY
Starfish Bloo Super Brunch (12PM-4PM) – Bubbles package: IDR 2,200,000
FIRE Super Brunch (12PM-4PM) – Bubbles Package: IDR 2,200,000

Reservations:
+62 361 3000 106 | [email protected]
www.wbaliseminyak.com
---
SugarSand Bali
For this festive season, SugarSand Beachside Bar & Restaurant invites guests on an extraordinary Christmas lunch by Seminyak Beach.
Where better to spend Christmas in Bali than by the beach. SugarSand has prepared an exception 5-course set menu special for the season, the menu includes: Cured Scallop to start, followed by a BBQ Quail Bitter Leaf with truffle honey and pistachio; the Barramundi fillet comes with tarragon butter and spiced macadamia; the piece de resistance, a Hot Smoked Beef Short Rib; and finally to finish a creative Christmas Pudding Ice Cream, with raspberry, matcha sponge and almond crisp. Tie that in with their free flow beverage package (featuring signature cocktails like a Red Apple & Cinnamon G&T and butterscotch Espresso Martini) and you're in for a good-time Christmas!
The lunch will take place between 12pm and 4pm. 5-course set menu:
– IDR 650,000 Net per person (Food only)
– IDR 1,200,000 Net per person (Including free-flow beverages)
Book Now
+62 361 209 9999 | [email protected]
www.sugarsandbali.com
Trans Resort Bali
This Christmas marks the debut of The Trans Resort's newly appointed Executive Chef Amaury Belkhanfar, who has prepared an exquisite 4-course, 'Taste of Winter' dinner to celebrate Christmas Eve here in Bali.
Presented at 'The Restaurant' by The Trans Resort Bali, Chef Amaury will has prepared delicacies from his home country, France! The dinner starts with three different kinds of amuse bouche. Then the real dinner begins: Terrine de Foie Gras with a warm red wine shot (like a Christmassy mulled wine!); a crispy Barramundi fillet dipped in romaine coulis and Champagne beurre blanc emulsion; for the main, a succuleny, 7-hour cooked short-rib with fall-off-the-bone meat, served with grilled vegetables and caramelised potato. Finally Chef Amaury gets creatiev for his dessert with a signature 'La Mini Buche de Noel', a Yule log decorated specially with little Santas.
On Christmas Day, The restaurant will serve up a tasty Christmas Buffet, featuring a Christmas choir, visit from Santa Claus and more goodies during the day.
Christmas Eve Set Dinner: IDR 450.000++ per person
Christmas Day Buffet Lunch : IDR 350.000++ per person
+62 361 8981234 | [email protected]
www.transresortbali.com

---
Jemme
Mulled wine under twinkling fairy lights, plump turkey with lashings of cranberry sauce, buttery mince pies as well as homemade cream, and carol singing on the baby grand piano. That is Christmas at Jemme, and they will be on hand to host your Christmas from the 10th of December. Staff parties, management dinners, pre-Christmas gatherings with friends or a celebration with the family – they can help you plan your special seasonal get-together, with roast turkey and all the trimmings of course.
Jalan Petitenget 28, Seminyak
+62 361 4732392
www.jemmebali.com
---
---
Hotel Tugu Bali
In this Season of Giving, join Hotel Tugu Bali in providing shelters for the earthquake victims in north Lombok. Tugu has helped up to 40,000 victims and built 700 homes so far, but thousands of families still need our help. For only USD 165 / IDR 2,500,000, you can sponsor a home for a whole family with elderly and children to keep them dry and safe this rainy season.
Tugu Hotel Bali's Christmas Eve celebrations will also be sending proceeds to north Lombok as well. Enjoy cocktails starting at 6.30pm and then join a 4-course dinner complete with Balinese dance performance and Christmas Carols by the children of Chloe House Orphanage. IDR 699,000++/person.
Como Uma Canggu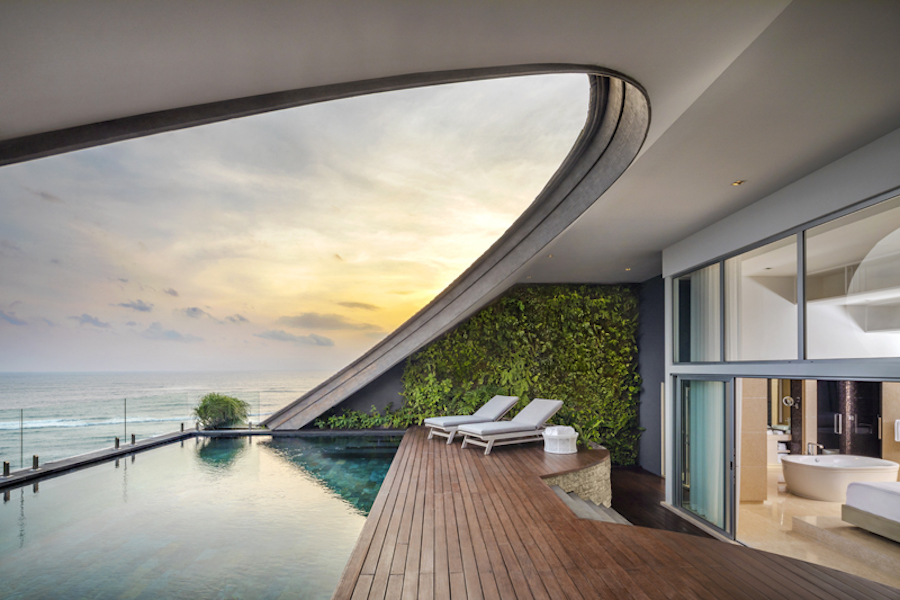 Make your Christmas celebrations the most memorable yet, with a Christmas Eve dinner accompanied by a live band playing festive melodies and a premium selection of wines. Feast on dishes from Turkey Wellington with cognac pastry to grilled mackerel with baby globe artichokes. Finish with warming roasted apple strudel with Calvados ice cream.
COMO Beach Club, 6.00pm to 10.00pm IDR 850,000 per person
Add wine pairing for an additional charge of IDR 850,000 per person
Subject to 21 per cent tax and service charge.
---
---
Four Seasons Jimbaran
Watch Four Seasons Jimbaran's specialty chefs in action at Taman Wantilan as they present a traditional Christmas Eve buffet, while for Christmas Day will feature a mix of Asian and Western favourites. Don't miss the dessert buffet from #1 World's Best Chocolate Chef, Yusuke Aoki.
24 December Christmas Eve Buffet IDR. 1,750,000++
25 December Christmas Day Buffet IDR. 695,000++
For a real treat though, hit Jimbaran Bay on Christmas Eve to watch Santa literally surf his way to shore at 2pm, at Four Seasons Jimbaran's Coconut Grove.
Full Festive Program
+62 361 701010
www.fourseasons.com/jimbaranbay/
---
Sundara Bali
What better way to spend Christmas in Bali than to sit back and enjoy the beach-front views and chic ambience of Sundara, complete with a five course Christmas-inspired menu on Christmas dinner!
Priced at IDR 1,750,000++
Full Festive Program
[email protected] | +62 361 708333
www.sundarabali.com
---
---
St. Regis Bali Resort
Christmas Degustation Dinner
Kayuputi, 24 & 25 December 2019, 6.30 PM – 11:00 PM
The specialty beachfront fine dining restaurant, Kayuputi, invites you to indulge in a premier selection of their Asian-inspired Haute Cuisine dishes, showcased in a six-course degustation menu. Choose to revel within Bali's most distinguished dining room near the dramatic open kitchen or within the alluring beachfront gazebo overlooking the serene Indian Ocean. This will be one of the most decadent experiences for Christmas in Bali.
IDR 1,950,000 net per person
Christmas Dinner Buffet
Boneka, 24 & 25 December 2019, 6:00 PM – 10:00 PM
Let Boneka restaurant's traditional gala buffet bring back the memories of your family's beloved holiday classics. Tantalise your taste buds with a delectable selection of honey roasted Tom turkey from the carving trolley, Wagyu beef D-rump from the grill, sweet, mustard-glazed ham and sumptuous river lobster. Allow our meticulous pastry team to delight with artisanal European desserts such as festive Stollen and Yule Log, while listening to the seductive sounds of a live jazz band and the meaningful harmonies of a Christmas choir.
IDR 1,700,000 net per person
IDR 750,000 net per child (3 – 12 years old)
Book Now:
[email protected] | +62 361 8478 111
www.stregisbali.com
---
Westin Resort Nusa Dua Bali
For Christmas Eve, dine under the stars by Westin's magical poolside setting. This will be fun for all the family, with an elaborate buffet with Christmas specialties, succulent seafood, live music and a dynamic fire dance performance! 6-10pm , IDR 890.000 per person including a glass of wine, free flow soft drinks. IDR 350.000 for children 6-12 years.
Another option is to got Hamabe, where authentic Japanese cuisine awaits. Dine on unlimited sushi, sashimi, teppanyaki and robatayaki tasting dishes. Adults only, 6-8pm first seating at IDR 890.000, 8.30-10.30pm second seating at IDR 790.000.
For Christmas Day, there's no where more appropriate than the family-fun Italian dining destination, Prego. Join in the Christmas Day Brunch at Prego for an extensive buffet experience, live grill stations and more, with many games and entertainment for the kidsm including magican, baloonist, Santa clause, games in the garden, live music and more. 11.30am – 3pm – IDR 650.000, IDR 325.000 children 6-12 years.
Full Festive Program
[email protected] | +62 361 771 906
www.westinnusaduabali.com
---
Sofitel Bali Nusa Dua Beach Resort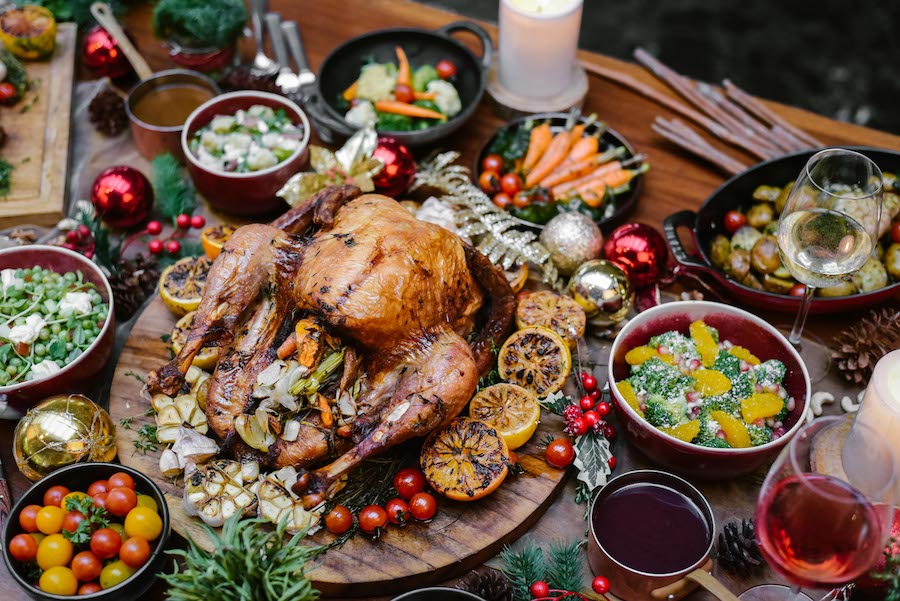 This luxurious resort is not only a dream destination for holiday-goers, it has secured a place as one of Bali's most sought after dining destinations for food lovers too. Famous island-wide for their brunch, held at Cucina, you can be sure that this feasts will be aplenty the Christmas in Bali.
Christmas Eve: Celebrate the night before Christmas with a 5-course degustation dinner at Cucina, featuring live entertainment by an acoustic band that will roam around with cheerful tunes, spreading the joys of the season (starts from IDR 699.000++). Or head to Kwee Zeen and indulge in a full on Christmas buffet, featuring Santa Claus himself (starts from IDR 499.000++). Both available 6pm-11pm.
Christmas Day: It's all about brunch on Christmas Day! Indulge in a full festive spread for your Christmas in Bali available in both Cucina (11am-3pm) and Kwee Zeen (12pm-4pm). Each venue will feature entertainment, including live acoustic band, children's choir singing Christmas carols, a magician's performance and an appearance from Santa Claus. Starts from IDR 899.000++. Christmas Dinner will also be available at Kwee Zeen from 6pm-11pm.

Book Now
+62 361 849 2888 | [email protected]

---
---
Desa Visesa Ubud
This year Desa Visesa is presenting Indonesian culture throughout their Christmas Eve celebrations in three of their restaurants, all of their dinners are available between 7pm-10pm:
Lesung Restaurant will be offering an International buffet dinner with pre-dinner cocktails and canapés. Dive into the many live carving stations, serving up roast turkey and all the traditional trimmings. There will be Balinese traditional entertainment. Santa will be paying a visit too.
IDR 575,000 net/person
Lumbung Restaurant presents an Indonesian Pop Up dinner. The restaurant will recreate a local Indonesian setting, featuring ethnic music. This will feature a 4-course dining experience over the river.
IDR 600,000 net/person
Padi Fine Dining has prepared a 7-course degustation heritage dinner in their elegant fine dining room. The chef will prepare your meal in front of you in their open, theatre-kitchen.
Food Only IDR 1,150,000 net/person
With Pairing IDR 1,750,000 net/person
BOOK NOW:
[email protected] +62 361 2091 788
www.visesaubud.com
---
Four Seasons Sayan

On Christmas Day, indulge in a special barbecue at Riverside Cafe, a dreamy, natural dining destination within the confines of the Four Seasons Sayan.
With over 10 years' experience at Michelin starred restaurants, Executive Sous Chef Jean-Philippe Guiard combines classic French technique with local flavours for a decadent semi-buffet dinner. Enjoy a buffet-style BBQ with unlimited orders; a selection of appetisers and desserts will be served at the table.
Priced at IDR 1.500.000++
Full Festive Program
62 (361) 701010
www.fourseasons.com/sayan/
---
---
Hyatt Regency Bali
This Sanur gem invites you to have a family style Christmas dinner at their Indonesian and grill restaurant, Omang Omang. But for Christmas, enjoy a delicious Christmas buffet spread on both Christmas Day or Christmas Eve in Bali (IDR 780.000++/adult). Their beachfront Pizzaria Restaurant will be serving up a Christmas Set Menu on both Christmas Day and Christmas Eve as well (IDR 640.000++/adult).

Book Now
+62 361 28 1234 | DPSBL-F&[email protected]

---
Make sure you don't miss the latest update for this year's Christmas in Bali promotions:
Subscribe to our e-newsletter
Follow us on Facebook | Follow us on Instagram