Breaking News From The Pig Pen In BatuBelig
After a few years of being "naughty but nice" as Naughty Nuri'sWarung in Batubelig, this little Piggy has evolved by leaps and bounds! She is not only bigger and fully-fledged, she is now confident, independent, supreme and most of all she is undeniably untamed! Indisputably, the wicked ribs and brutal martinis are her trademarks, known throughout Bali and beyond. Yet, many guests are not familiar with other luscious dishes she has crafted within the last few years. Hog Wild in Bali offers an array of mouthwatering cuisine from tenderlicious beef ribs, Frenchifiedbebekgoreng (crispy-duck), seared sashimi-quality tuna steak, delectable full-hearted sop buntut (oxtail soup) to lip-smacking beef shish kebab.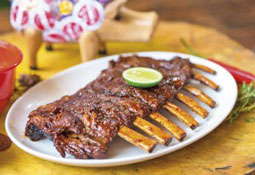 Feasting in her funky street-side warung with her stylish décor is always an unforgettable dining experience. Moreover, Piggy has turned its naughtiness into a wild souvenir shop next door where youAll find outrageous knick-knacks for you and your zany friends. Enjoy a 10% discount off all food and beverages from 14-17 May 2015.
Hog Wild in Bali (formerly Naughty Nuri'sWarungBatubelig)
JalanBatubelig 41, Kerobokoan
Phone: 0361 847 6722
www.hogwildinbali.com