The winners were selected from over 300 Nominees in over 80 countries. Each entrant was nominated by a member of the Awards Nomination Committee, comprising 70 leading travel experts, whose business it is to be 'in the know' concerning the extraordinary boutique hotels. The Awards then coordinate judge evaluation visits with each shortlisted nominee. The judges document all aspects of the guest experience covering six categories: dining and entertainment, design, facilities, location and, most importantly, staff service and overall emotional impact. Finally, these extensive hand-written evaluations are meticulously studied by their Awards Panel, which decides the regional and World's Best Award winners.
World's Best Boutique Hotel 2018
This year, ahead from 300 nominees around the world, none other than Awarta Nusa Dua Resort & Villas, Bali came away as the World's Best Boutique Hotel 2018. On the 8th of November, 2018, Awarta received their award at the Merchant Taylor's Hall, London. This was the top of the award of the night, and was received by Awarta's director Naomi Siawarta.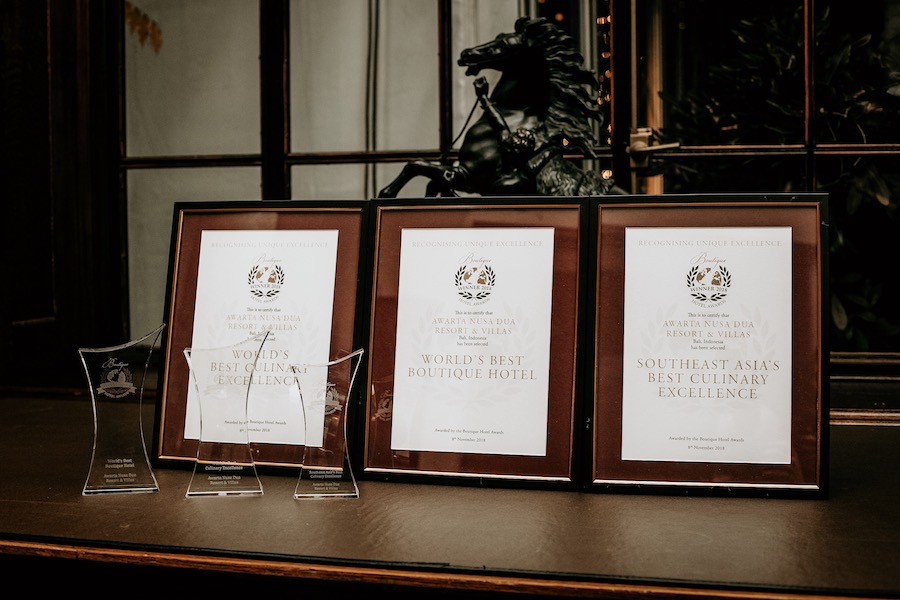 Judges praised the Resort for its exquisite food; breath-taking grounds; the beautiful fusion of traditional Balinese and Chinese architecture; the outstanding spa experiences on offer. The judges commended the hotel's dedication to detail in every aspect. Above all, the Boutique Hotel Awards look for hotels whose staff deliver emotional warmth to a guest's stay without compromising a world-class level of service. Awarta Nusa Dua Resort & Villas seemed to have perfect this and deservedly received their award. On top of the Best Boutique Hotel 2018, Awarta also received the awards: World's Best Culinary Excellence and Southeast Asia's Best Culinary Excellence. 
Awarta Nusa Dua Resort & Villas Bali
Awarta translates to 'treasure', an appropriate name for this boutique, luxury destination. Tucked away in its own corner of the Bali Tourism Development Complex (BTDC, Nusa Dua), surrounded by international brands and big resorts, Awarta, with its 14 private villa residences offers something quite different from its neighbours.
You're welcomed first into a grand lobby, with marble floors and high ceilings. Despite its luxurious finishings however, there is without a doubt a touch of the tropical, with modern Bali-inspired ceilings, wooden framings and lush gardens that bring the resort's sense of grandeur down to an inviting elegance. Traces of the owning-family's background are found throughout, with Peranakan details and artefacts filling the walls and shelves, adding character to the grounds.