Biggest Events in Bali 2019: Full Calendar
Bali's 2019 calendar of events is marked by quite a number of artistic festivals that allow you to indulge in unique celebrations. From arts and culture to music and sports as well as literary celebrations, we have rounded up Bali's major events for you to take part in this year.
Don't forget to visit our Events Calendar for other happenings on the island.
JANUARY
05
Mekotek
On this day, the villagers of Munggu in Mengwi hold the Mekotek ritual. Known as 'spear fight', the ritual started in 1934 in the village of Munggu and real spears were used at the time unlike the blunt ended wooden sticks that are used at present. The Mekotek sees two groups of male villagers as opponents attempting to force down the opposition cone of sticks which usually results in people being crushed below the collapsed cone of sticks.
FEBRUARY
27
Anniversary of Denpasar
Denpasar will burst with colour as the island's capital celebrates its 231st anniversary this year on 27 February. Merriment will take place around Puputan Square, and a number of competitions as well as cultural performances and parades will also be held on the day.
MARCH
08
Omed-omedan
Known as the kissing ritual, Omed-omedan is celebrated on the day after Nyepi (the silent day) to welcome the Çaka new year. The single Sesetan boys are probably the happiest on this day, for they get to kiss the single ladies of their village without any consequences. During OmedOmedan bachelors and bachelorettes aged 17-30 of Sesetan gather on the area's main street. Divided into two groups (men and women), they will take position and face each other; at a given signal, both sides will approach to the centre of the street, and male participants will pull and kiss (sometimes forcefully) the female participants while the rest of the villagers in the audience pour buckets of water over them.
24 – 31
Bali Spirit Festival
The week-long festival takes many forms, from yoga, meditation, dance, martial arts and healing workshops and seminars; to full-day fairs and markets selling handicrafts, vegan foods, clothing and gifts. A huge line up of world and spiritual music will hit both daytime and night concerts. Find their schedules, line-ups, special events and more information on their website.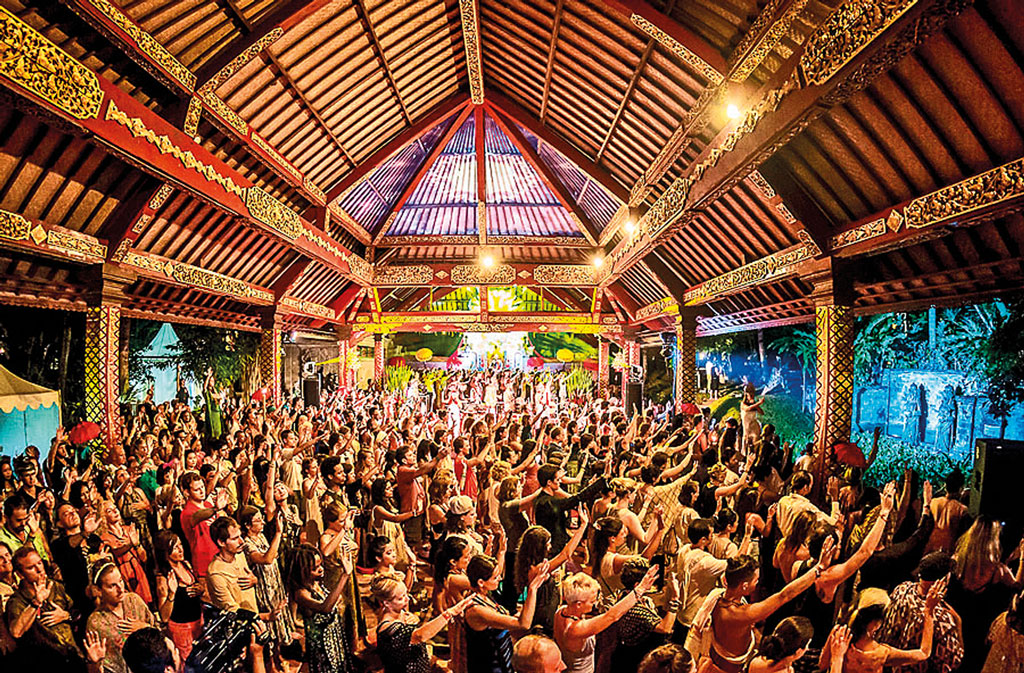 Bali Spirit Festival
APRIL
10 – 19
Gianyar Art & Cultural Festival
Held in downtown Gianyar, the Gianyar Art & Cultural Festival aims to promote the regency as a must-visit destination in Bali. The festival will showcase the traditional art, music, costume, food, and even literature unique to the area.
21
Easter in Bali
Easter is a time for family and where better than Bali to enjoy an Easter Holiday ! On top of a getaway to the island of the gods, on Easter Sunday many restaurants have prepared amazing Easter Sunday Brunch all around the island – whether you're visiting or a resident, this is a day of indulgence you shouldn't miss.
26 – 28
Ubud Food Festival
Indonesia's most outstanding chefs, producers, restaurateurs, entrepreneurs, food photographers, storytellers, scientists and activists will converge in Bali for the Ubud Food Festival Presented by ABC (UFF). In its fifth year, the country's leading culinary event will celebrate the nation's diverse cuisines and exciting gastronomic scene with food lovers from near and far through the theme 'Spice Up the World'.

Ubud Food Festival
MAY
09 – 25
Festival Bahari
Festival Bahari, or the "ocean festival", is held by the government of Badung to promote the regency, which is home to a number of the island's most popular areas such as Kuta and Seminyak, as the leading destination in Bali. Place to be confirmed.
17 – 21
Buleleng Art Festival
This festival aims at promoting and conserving the traditional art and culture of North Bali.
JUNE
09-06 July
Bali Art Festival
Held annually, Bali Art Festival was first held in 1979 by the late Professor Ida Bagus Mantra. The main purpose of this festival is to preserve Balinese art, music, and literature, gaining a strong base for national identity. Now, combining emerging international arts with local culture, Bali Art Festival has become the creative event of the year with its parade, exhibition, and workshop.
24 – 25
TengananPengringsingan Festival
Among the festivities is the famous PerangPandan, or locally known as mekare-kare. This annual, age-old tradition is a colossal coming-of-age ritual, dedicated to God Indra, the Hindu god of war and the sky. The ritual sees friendly duels between all male villagers, who bout each other armed with a small rattan shield in one hand and a tied packet of thorny 'pandan' leaves in the other.