The Afterhours : Where to Party in Bali Long into the Night
In fact, it comes out even more lively long after the day has parted ways with the sun. The island is never in shortage of nocturnal creatures, hailing from all over the globe, spanning across different generations. From its late night sessions to early morning prayers, it's safe to say that Bali is an island that never sleeps. So, if you're looking for a late night party in Bali, look no further:
Locals, expats, and travellers all have the liberty to match their true personality to Bali's many night spots. Each end offers its own characteristics and unique qualities, harbouring different types of crowd after the sun goes down. Different stokes for different folks, and Bali has something for everyone.
Kicking off the list is Seminyak, the island's most stylish district, loved by Bali's upscale clientele and party animals alike. Seminyak's night scene has blossomed over the years, armed with an arsenal of chic beach clubs and entertainment venues.
Before arriving in central Seminyak, let's take you to Petitenget. On its main road, lies a New York-esque speakeasy called 40 Thieves – or the coolest club in town. Presented to us by international award-winning mixologist Shah Dillon, the bar focuses on carefully crafted cocktails and artisanal spirits, complete with top-notch service providing you a 10/10 cocktail experience. Monday nights are dedicated to those in the hospitality industry, including DJs and free shots on the house; making it ideal for networking! Other nights, two-for-one cocktails are served during their happy hour from 10pm to 12am. The menu offers classic favourites, such as the Moscow Mule, curated by the owner and legend himself. A few rounds of these you'll be ready for an all-night party in Bali.
After a few rounds of craft cocktails, wander further towards the beach where you'll come across the district's underground nightclub, Red Ruby(www.redruby.club) that has recently seen an upgrade. Offering 10 VIP tables inside, you'll be greeted by a wide spectrum of house, techno, and hip hop tunes. Their parties lure in a mix of youngsters and travellers looking to party city-style. Wednesday nights are a Progressive / Psy trance music experience – that's your kind of thing! Fridays at Red Ruby will see you dancing to hip hop and R&B, whilst sipping on curated cocktails and nibbling on light dishes brought to you by the Red Ruby team in partnership with the current hip and happening restaurants. Occasionally, Red Ruby hosts international guest DJs, such as the likes of Manu-L and Michael Vagas.
Not too far away is Jalan Kayu Aya, familiarly known as Seminyak's Eat Street, stretching across 2 kilometres and home to a line up of places to eat, drink, relax, shop, and even get inked. En Vie Lane (www.envielane.com) is one of the street's newest additions, that has successfully attracted Seminyak's socialites and party-goers. Inspired by the French saying 'Be Alive', En Vie has one of Indonesia's longest bar tops boasting a sophisticated decor and an intimate atmosphere. What sets this Seminyak nightclub apart however is the gambrel-shaped ceiling displaying 3D-mapped projections; under which you could be sipping on an Old Fashioned on a starry night from the comfort of your VIP table or the dance floor. It offers an extensive list of champagnes to choose from and signature cocktails, including their variation of daiquiris and negronis. Situated above Salazon restaurant, En Vie Lounge is ideal for after dinner drinks or your last destination before staggering home. Its crowd maintains a classy image, so you best be leaving your sandals and shorts for the beach.
If you're a fan of bubbly drinks and all-night entertainment, Red Carpet Champagne Bar (www.redcarpetchampagnebar.com) is worth powering through the Seminyak traffic. The bar is the proud home of Indonesia's largest champagne collection with more than 100 bottles available. Expect to find all-time favourites, such as the best-selling Moet, to obscure selections such as age-old bottles of Cristal. Choices of wine, spirits, and cocktails are also included in their menu, which comes in the form of a tablet so ordering your fifth martini is only a tap away. Located on the second floor is their nightclub that 's open until 4AM, or 6AM on busy nights. The after bar is generally spacious; furnished with booths and curtains that can be drawn for lowkey encounters. The flashy decor sets the right tone for late night drinking, complemented by live music. Although they brand themselves as a bar, guests can order a meal that won't disappoint, with the oysters among the favourites. For the ladies, another attraction not to miss is the powder room. It may seem like a maze, but worry not, someone will be on stand by to escort you in.
Another Seminyak landmark is Motel Mexicola (www.motelmexicola.info) – only a 15 minute stroll from the last venue. Loved for its quirky interior and vibrant ambience, Mexicola is a restaurant by day and club by night. Envision neon lights, cacti, Madonna art (in the biblical sense, not the pop star), melting candles, tacos, and tequila on a warm summer night. The food and drinks are a take on both modern and traditional Mexican roots, bringing you a selection of tequila, gin, rum, whiskey, vodka, fun cocktails, and a cigar selection. Wine proffiecandos can rest easy knowing they are catered for, too! The al fresco party is packed with locals, expats and travellers looking to let their hair down and maybe dance on table tops after they've had one too many. Things are cheerful and casual at Motel Mexicola; there is no strict dress code. Music wise, the DJ spins tunes from old school hip hop and R&B, Latin pop songs, to top 40 hits.
Before reaching the buzzing Double Six Beach, make sure you stop by at Jalan Dhyana Pura for a bar hop to remember. The street, now known as Jalan Camplung Tanduk, is Bali's LGBTQ+ main hub. Whatever you identify as, if you're seeking unique late night entertainment, count yourself in for a fabulous nightlife experience. You can start from Bali's most popular Bali Joe (www.balijoebar.com), and make your way to Mixwell Bar (www.mixwellbar.com), Bottoms Up Bar, and Face Bar all in the same strip. These gay-friendly bars are a magnet for their notorious drag shows and lip-synced female impersonations. Be prepared to meet your favourite divas, dead or alive.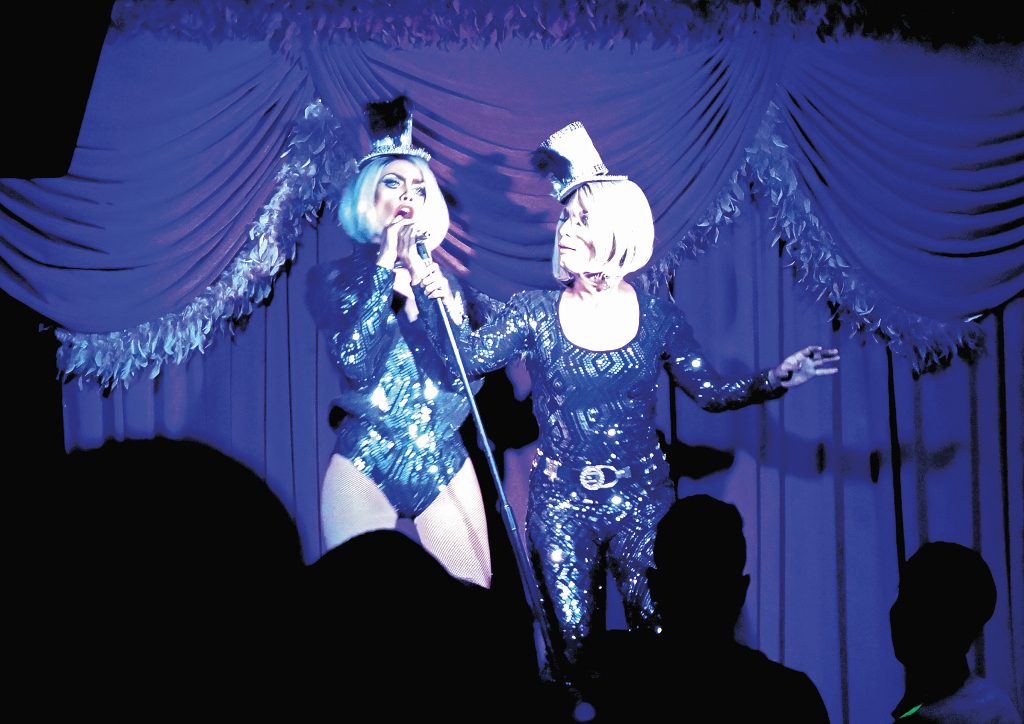 Heading south towards Legian, you'll find Jenja Club Bali (www.clubjenja.com), a spot for those who want love a good dance when they party in Bali! This night club has two levels and is exclusively open on Wednesday to Saturday nights from 8PM. Jenja Foyer is equipped with lounge areas where guests can entertain and relax. Jenja's main room is downstairs from the Foyer where gigs are held and the dance floor is packed. The venue brings in local and international DJs to offer a variety of techno and house beats each night for all types of crowds. It has become many cosmopolite's go-to night time hang out spot.
Going up north to the once sleepy Balinese village of Ubud, nestled between greenery and incense-infused air is The Night Rooster (www.locavore.co.id/nightrooster). The bar looks slightly out of place in the bohemian alleyways of Ubud, perhaps more well fitting in a Brooklyn corner or a London alley, it maintains a local twist that is adored by many. The brainchild of culinary enthusiasts, Locavore, the bar is located between the restaurant and their very own butcher shop. Bartenders aren't merely serving beverages at The Night Rooster, they treat mixology with a passion. Alchemist Raka Ambarawan concocts imaginative cocktails with native ingredients, including homemade spirits, herbs and spices, bringing you rustic potions, such as Ashes. 'Blowtorched dehydrated fruit, vodka, rye whiskey, sweet and sour, fortified wine, palm sugar syrup, burned cassia bark, molasses cracker served on the rocks in pine forest mist', the menu reads. The only down time at The Night Rooster is when it hits their midnight closing. It may not be the epitome of party in Bali, but there'll certainly be a party on your palate with these drinks!
Tagged :