3 Bali Bootcamps That Will Kick You Back Into Shape
Get ready for your life-changing transformation. Bootcamp Programs are designed to keep the body energised and help the mind destress. Having professional trainers at your side will motivate you into putting in the effort and determination needed! They can really inspire you to put healthy pressure on yourself.
Limited offer: Exclusive 7-Day Ketogenic Retreat at REVĪVŌ Wellness Resort Bali

From the 18th – 24th November 2018, REVĪVŌ Wellness Resort in Nusa Dua will be holding an exclusive wellness experience: A Ketogenic Retreat with specialist Azza Keith.
REVĪVŌ Wellness Resort sprawls across three hectares of land in Bali's Nusa Dua, surrounded by Bali's iconic tropical flora and the Indian Ocean. The resort has been fashioned especially for wellness, encompassing luxury accommodation, a health-based restaurant, a healing spa and a holistic fitness centre, from yoga studio, 50-metre lap pool, meditation centre and more.
The 7-day retreat will be led by Primal Health and Pilates specialist, Azza Keith, who will impart valuable insights on the benefits of a ketogenic diet paired with tailored exercise plans to help guests develop a sustainable healthy lifestyle. A ketogenic menu has been specially designed for the retreat, in collaboration with REVĪVŌ's creative nutritionist chef, Aliwalu.  Including accommodation, spa, food, classes, personal reflection diary and much more.
Find out more at www.revivoresorts.com 
---
2befit Bali
Conducted by experienced and qualified trainers, 2befit Bali Bootcamp is an outdoor fitness workout group designed to build strength and fitness through a variety of intense group intervals. With a balance mix of cardio, strength and interval training, the trainers will put you through a tough, sandy workout using sacks filled with sand, battle ropes, tyres, and your own bodyweight. Whether you are a seasoned bootcamp warrior, a first-timer, all fitness levels are welcome! The trainers are standing by to correct your techniques and challeng you based on your grit, maximising your training results. Their programs are based on challenging, fun and functional training methods to address all aspects of your health and fitness. Combining the sand and the sun to take your workout to the next level, this is the most effective way to lose serious weight in only an hour!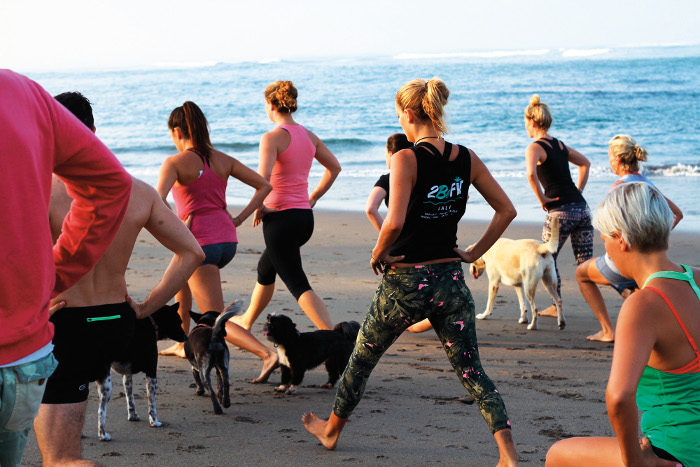 To participate, booking is not mandatory. You can simply pop up at the beach with your towel and water. After that, be prepared to sweat and have fun for the ultimate workouts. However, since this is an outdoor activity, the classes are weather dependant. 2Befit Bali organises regular bootcamps in Batu Bolong Beach, Sanur Beach and Taman Bhagawan. Please contact them to get detail of time and day.
---
S2S CrossFit
Introducing an elite method of exercise and nutrition, S2S CrossFit is the island's first CrossFit gym that combines community and sport science to transform minds and bodies. No two-days are the same as they make creative exercise programs that involve cardio, plyometrics, strength training, some elements of gymnastics that takes place indoor, outdoor, and sometimes at the beach. However, as we realise it, even the best workout program and diet habit would not work if one does not stick to it in long-term. Therefore, instead of focusing solely on eating and exercising, S2S CrossFit prioritises community and fostering friendships for members to get fit and healthy permanently. This is done through fun competitions, celebrating life events, BBQ gatherings and group outings. The idea is that the tighter the community gets, the more support the members would get to reach seemingly impossible goals.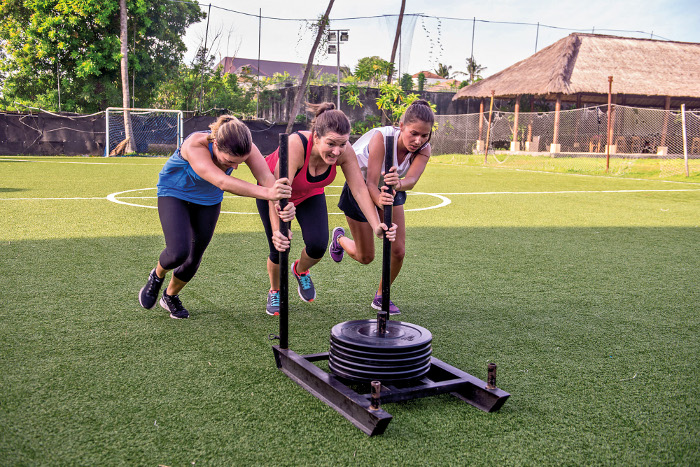 S2S CrossFit offers dual-location membership, Fit food meals, fitness holiday packages, beach workouts, seminars, and many more. They customise their workouts based on individuals' goals, needs, and level of experience but done in a small group to keep members accountable to one another, therefore leading to permanent healthy lifestyle. S2S CrossFit is located in Canggu at their boutique semi-outdoor gym, but the one in Jimbaran has its own wow factor with 5,000 sqm at the beachside that includes indoor gym, soccer field, volleyball court, basketball court, and open mat space for yoga.
---
Ultimate Fitness Holiday
The Bootcamp program at Ultimate Fitness Holiday is an intensive fitness program suited for all ages, any gender and a variety of fitness levels. What you can achieve depends on how far you would dedicate yourself into the program. But, even short-term participants get the benefits from the intensive workouts and personal attention from expert fitness trainers. The program is suitable to increase cardio fitness, muscle mass, help with weight loss, flexibility or just toning up! By combining instinctive, natural and functional movements with science-based highly efficient training programs, Ultimate Fitness Holiday offers the best of what your body deserves. Providing the space, the equipment and the expert coaching, you just simply need to show up and go full out. Worry not to spend hours in the gym every day because their constantly varied programs make sure you will rarely do the same workout. A workout will be provided for you that is scalable to suit your fitness level.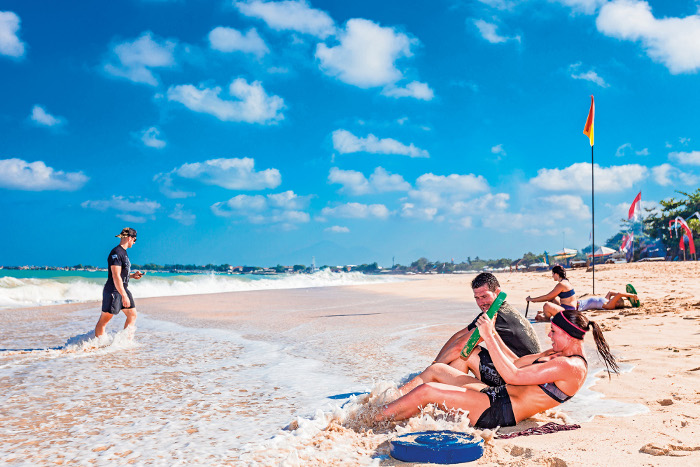 Ultimate Fitness Holiday has its own effective methods at identifying ways of reaching health and fitness goals in a faster way. If you want to make big changes in a very little time, you will get the support needed from the best personal fitness trainers on the island to make you focus on your goal. Their professional roster of cross fit trainers will push you to your limits and make you the best you can be. If you only want their training program to focus on Cross Fit, there are two group training sessions lasting one hour each per day, plus a full six hours of open gym access for you to work on your own training plan as devised by your personal trainer. Please check on their website for the schedule. Your personal training sessions happens one time per week during the open gym access.